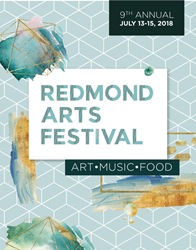 "Connecting the community through arts and culture is important now, more than ever"
REDMOND, Wash. (PRWEB) June 25, 2018
Redmond Arts Festival is Redmond's annual arts event featuring over 90 artists' booths, live music on a main stage, a wine and beer garden, food trucks, and a featured community art project. The festival is produced through a partnership between Redmond Town Center and VALA Eastside, a local 501(c)(3) nonprofit arts organization, and attracts over 10,000 visitors throughout the weekend.
"VALA is honored to partner with Redmond Town Center to co-produce the Redmond Arts Festival and showcase the work of local artists, including a family-friendly community art project led by featured artist Sherri Gamble. Connecting the community through arts and culture is important now, more than ever,"  says VALA Chair, Jessica Kravitz. Artists from all over the Pacific Northwest come to the festival to present a wide range of fine arts and crafts.
Redmond Arts Festival
Dates: Friday, July 13th – Sunday, July 15th
Time: Friday & Saturday 12pm – 8pm; Sunday 12pm – 7pm
Entrance Fee: Free
Location: Redmond Town Center―164th Avenue NE & NE 74th Street, Redmond, WA 98052
The Redmond Arts Festival includes a guided community art project with featured artist, Sherri Gamble. "The Hand-Held Project" will be led by Gamble on Sunday, July 15th alongside the Redmond Police Department where attendees will be invited to join hands, make a mold, and then cast them in plaster. The result will be a living sculptural memory and physical representation of building trust within the community: to allow art access and connection for all.
The Featured Artist Community Art Project is a festival tradition, offering attendees the opportunity to experience the art-making process side by side with a working artist, as well as their fellow community members. All ages are welcome to join the fun.
For more information on Redmond Arts Festival, please visit http://www.valaeastside.org or follow VALA Eastside on Facebook.
VALA, Venues for Artists in the Local Area, Eastside, is a 501(c)(3) nonprofit arts organization based in Redmond, WA, committed to connecting artists to artists, artists to the community, and the community to art. For more information visit: http://www.valaeastside.org/.