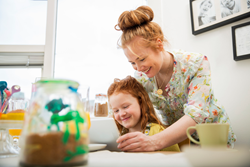 SAN FRANCISCO (PRWEB) June 21, 2018
One small act of kindness leads to another, and this summer the school communication platform, ClassDojo, is encouraging millions of kids to get involved in kind acts of their own. Together with child development expert Dr. Michele Borba, ClassDojo has created The Summer Kindness Series to give families everywhere fun, free activities to do with their kids while school is out. The nine-week series of ideas and activities is based on Dr. Borba's research, with each week building off of the next — helping kids develop the kindness habit and inspire compassionate acts before the new school year.
Already 1 in 8 U.S. families with a child under age 14 use ClassDojo every day to communicate with teachers and share in the classroom experience. Families will find inspiring ideas and habits, with hands-on activities tailored for elementary school-aged kids to practice. The series' content will be shared on a weekly basis from June 21 through August 16 and will be open to anyone for free at http://www.classdojo.com/summer-kindness-series and by following #SummerKindnessSeries on Facebook, Instagram and Twitter.
How Kindness Relates to Empathy
At the root of kindness is empathy, which is key for creating positive, supportive communities. The World Economic Forum reports that emotional intelligence and empathy will be among the top ten social-emotional skills needed for the 2020 job market. Yet, empathy is on the decline, with one study showing a 40 percent drop in teens over the past 30 years. According to Dr. Borba, studies show the ability to empathize affects children's future health, wealth, happiness, relationship satisfaction, and resilience — yet the nation is in an empathy crisis.
"There's never been a greater need than now for empathy education, and the Summer Kindness Series is a wonderful way to raise awareness that empathy can be taught, learned, and practiced, just like swimming or soccer," said Dr. Borba, child development expert and author of UnSelfie: Why Empathetic Kids Succeed in Our All-About-Me World, the book from which the Summer Kindness Series is adapted. "It's exciting to get to work with ClassDojo on this series, with their reach to millions of families in the U.S. and around the world. When families and teachers work as a team, the impact on kids is tremendous."
Social and emotional curriculum (SEL) is gaining traction nationwide as parent and youth groups are calling for more social and emotional learning in schools. With ClassDojo's reach in 90% of K-8 schools in the U.S. and in more than 180 countries, the company has been hearing more and more from teachers and school leaders on the need for high-quality, engaging content to help students learn these important skills.
"Every day we hear stories of the different ways families and teachers are connecting on ClassDojo and building trusted relationships that extend from school to home," said Lindsay McKinley, Head of Communications and Brand at ClassDojo. "At the center of it all is kindness and empathy, topics we began talking about last year with our Big Ideas Series that schools around the world took part in. The Summer Kindness Series is an exciting extension of this for home, and a way to make it fun for kids to get into the kindness habit over the summer."
Summer Kindness Series
Every Thursday from June 21 through August 16, ClassDojo will reveal one new kindness habit per week which includes research-based tips, ideas, and activities. Featuring real strategies for parents and ideas for collaborative play, kids can learn and practice nine essential kindness habits over the summer like reading emotions, curiosity, mindfulness, and collaboration.
"This series is a fun way to teach my kids about kindness, emotions, and empathy without making it seem like 'work,'" said Michele Montierro, mother of three from Azusa, California. "My kids have loved the activities and it's been a great way for us to develop the kindness habit as a family. Plus it's been so easy to integrate it into our daily routine!"
As another method to make kindness "sticky" for kids, the series encourages families to submit their own ideas each week with a Kindness Creation Challenge to ignite kindness leadership, creativity, and prompt learning through teaching. Families can submit their most inspired ideas for an opportunity to have their project featured to ClassDojo's global community by sharing with #SummerKindnessSeries on social media.
Families can join in anytime as activities are released each week through August 16. Please visit http://www.classdojo.com/summer-kindness-series for more information on the Summer Kindness Series and ClassDojo.
About ClassDojo
ClassDojo's mission is to bring communities together and give them the tools, ideas, and energy to improve education for all kids. Founded in 2011 and based in San Francisco, California, ClassDojo is a school communication platform that teachers, students, and families use every day to build strong relationships and supportive communities. This is done in two ways. One, by sharing what's being learned in the classroom back home through student portfolios, photos, videos, and messages. And, two, by helping students build social-emotional skills through in-classroom feedback and engaging activities. Today, 90% of K-8 schools in the U.S., as well as a further 180 countries, have joined ClassDojo. To learn more, visit: classdojo.com or Facebook, Instagram and Twitter.
About Michele Borba
Michele Borba, Ed.D., is an internationally renowned educational psychologist; a former classroom teacher; and an expert in parenting, bullying, and character development. She is an award-winning author of 22 books translated into 14 languages, including Unselfie: Why Empathetic Kids Succeed in Our All-About-Me World. languages. One of the foremost authorities on childhood development in the country, she is a regular NBC contributor who has appeared over 140 times on the TODAY show and has been featured as an expert on Dateline, The View, Dr. Phil, NBC Nightly News, Fox & Friends, Dr. Oz, and The Early Show, among many others. She lives in Palm Springs, California, with her husband, and she is the mother of three grown sons. See http://www.micheleborba.com.