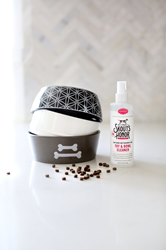 "We're excited to offer our new Toy & Bowl Cleaner as a natural, safer solution – it's food-grade, preservative-free and made with only plant-derived ingredients." - Jenny Gilcrest, director of marketing for Skout's Honor
IRVINE, Calif. (PRWEB) June 26, 2018
Skout's Honor, the award-winning pet specialty brand that has become known for its plant-powered cleaning solutions and patent-pending probiotic skin care/grooming line, today announced the launch of its Toy & Bowl Cleaner, a safer way to clean the slime and grime from pets' favorite toys, food and water bowls.
"Let's face it – anything you use to clean your pet's toys and bowls will ultimately end up in their mouth," said Jenny Gilcrest, director of marketing for Skout's Honor. "Most people use regular dish soap, or throw them in the dishwasher for convenience – but many of those cleaners can leave a toxic residue, which ends up being ingested by your pet. We're excited to offer our new Toy & Bowl Cleaner as a natural, safer solution – it's food-grade, preservative-free and made with only plant-derived ingredients."
Skout's Honor Toy & Bowl Cleaner (MSRP: $9.99, 8oz)

Safely cleans plush toys, rubber, neoprene, ceramic, stainless steel and other water-safe surfaces
Food-grade, fragrance-free, preservative-free, non-toxic, sulfate-free
Made with natural hickory bark extract and organic coconut and fruit sugars
Shake well, spray directly on the surface of toy or bowl, wipe with a clean cloth
Every bottle sold donates 3 meals to an animal in need via the Skout's Paw Pledge
Skout's Honor Toy & Bowl Cleaner is available exclusively at pet specialty retailers in the United States and Canada, as well as online at Chewy.com, Amazon.com and SkoutsHonor.com
For distribution and retail opportunities please contact Shannan Morlas, National Sales Manager, at shannan@skoutshonor.com [shannan@skoutshonor.com __title__ ].
About Skout's Honor
Skout's Honor is an award-winning company based in Irvine, Calif. that offers BETTER, FASTER, STRONGER plant-powered solutions to everyday pet stain and odor problems and a patent-pending NEW line of Probiotic Skin Care/Grooming products for pets. Founded by a team of animal lovers and proud pet owners, the company created its "Skout's Paw Pledge," and donates a day's worth of food for a shelter animal in need with every product sold. For more information on the products and for specific retailers, please visit SkoutsHonor.com
###