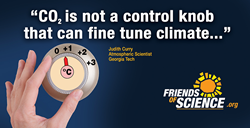 It also means that greenhouse gas emissions do not have as big an impact on the climate as has been claimed, and the case for costly policy measures to reduce CO2 emissions is much weaker than governments have told us. For a science that was supposedly "settled"..we sure have a lot left to learn
CALGARY, Alberta (PRWEB) June 21, 2018
The Canadian carbon tax and climate change policy revolt gained strength as Premier-elect Doug Ford gave notice he would scrap the present cap-and-trade deal with California and Quebec, as reported by CBC News on June 15, 2018. Ford also has stated he is willing to go to court to challenge the Canadian federal government's intention to impose a carbon tax on provinces. Canada's twitter feeds have been flooded with #CarbonTaxCoverUp comments as the opposition party Conservatives demanded the federal government reveal the ultimate costs of a carbon tax, posting images of a heavily redacted FOIP document.
Friends of Science Society issued a report entitled "CHECKSTOP" that rebuts the federal carbon tax/Gender Based Analysis report of April 30, 2018. A previous Friends of Science report of April 18, 2018 "Let Them Eat Carbon" challenged the Ecofiscal report and Abacus data survey.
The scientific justification for carbon taxes, cap-and-trade, and the Paris Agreement took another hit on June 20, 2018, when the Financial Post published an article by economist Ross McKitrick laying out flaws in climate simulations (models) upon which carbon taxes and climate policies are based. The article noted: "…It also means that greenhouse gas emissions do not have as big an impact on the climate as has been claimed, and the case for costly policy measures to reduce carbon-dioxide emissions is much weaker than governments have told us. For a science that was supposedly "settled" back in the early 1990s, we sure have a lot left to learn."
The Trudeau government in Canada has claimed it would base climate policy decisions on science.
According to Matthew Nisbet's article "ClimateShift" of April 23, 2014, a number of billionaire philanthropies banded together in 2006 to push the "... passage of cap and trade legislation [that] would "prompt a sea change that washes over the entire global economy."" Their method, described in "Design to Win," was to fund local environmental groups (ENGOs) world-wide to agitate for policy changes.
ENGOs in Canada funded by ClimateWorks partners have successfully blockaded pipelines, LNG ports, tanker ports and coal use in Canada, as extensively reported by Vivian Krause, to the detriment of the economy.
The Trump administration is busy rolling back Obama-era climate change policies and relying on current scientific evidence, like that presented by Dr. John Christy to the US House Committee on Science, Space, and Technology, on March 29, 2017.
According to the International Energy Agency, global demand for fossil fuels is expected to grow, as outlined in a summary by Robert Lyman posted on Friends of Science Society's blog.
A recent interview with atmospheric scientist Prof. Richard Lindzen, conducted by Grégoire Canlorbe, that discusses the complex uncertainties of climate science, is posted on the Friends of Science blog.
Friends of Science Society says carbon dioxide from human industrial emissions has nominal impact on climate, there is no significant climate risk and no need to phase out fossil fuels or enact related climate policies.
About
Friends of Science Society is an independent group of earth, atmospheric and solar scientists, engineers, and citizens who are celebrating its 16th year of offering climate science insights. After a thorough review of a broad spectrum of literature on climate change, Friends of Science Society has concluded that the sun is the main driver of climate change, not carbon dioxide (CO2).
Friends of Science Society
P.O. Box 23167, Mission P.O.
Calgary, Alberta
Canada T2S 3B1
Toll-free Telephone: 1-888-789-9597
Web: friendsofscience.org
E-mail: contact(at)friendsofscience(dot)org
Web: climatechange101.ca