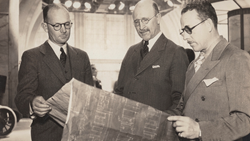 "Greatest public architect of Los Angeles at a time when the city was inventing itself." Kevin Starr, historian
LOS ANGELES (PRWEB) June 21, 2018
PBS SoCal and Clear Sky Films announced that Iconic Vision: John Parkinson, Architect of Los Angeles will premiere on Public Broadcasting in July. The documentary film tells the story of Parkinson's influence on the development of Los Angeles through his design of noted architectural masterpieces including the Los Angeles Memorial Coliseum, Los Angeles Union Station, and Los Angeles City Hall – which celebrates its 90th anniversary this year. The film will premiere in Los Angeles on July 5 at 8 p.m. on PBS SoCal (KOCE), and across the country starting on July 7 (check local listings).
Iconic Vision: John Parkinson, Architect of Los Angeles tells the story of John Parkinson, who historian Kevin Starr described as the "greatest public architect of Los Angeles at a time when the city was inventing itself." During his 40 year career in Southern California, Parkinson helped define Los Angeles as a city that embraced the future. He designed the city's first steel-frame structure, the Homer Laughlin Building; the first skyscraper, the Braly Block; the first world-class hotel, the Hotel Alexandria; the Los Angeles Memorial Coliseum (home to the 1932, 1984 and 2028 Olympics); numerous iconic structures on the University of Southern California campus; Bullock's Wilshire, an art-deco cathedral of commerce; Los Angeles City Hall, one of the most iconic buildings in California, and Union Station, the last great American train station. Today more than 50 Parkinson designed buildings remain in downtown Los Angeles.
John Parkinson was the dominant architect during a period in which Los Angeles transitioned from an outpost to a metropolis and yet he had no formal training as an architect. He was the son of a millworker from the industrial northwest of England who arrived in the United States with five dollars and a tool box looking for adventure.
In addition to making an indelible mark on Los Angeles, Parkinson also designed many buildings across California including the Taft and Pennoyer building in Oakland, the First National Bank in Santa Barbara, and the Spreckels Building in San Diego. His projects across the country include the Hotel Utah (now the Joseph Smith Memorial Building) and the Kearns Building in Salt Lake City; the Hotel Southland in Dallas; the Butler Block and the Seattle National Bank Building (now the Interurban Building) in Seattle; as well 32 schools in the Pacific Northwest and railroad depots in Nevada and Utah.
Iconic Vision: John Parkinson, Architect of Los Angeles includes a wealth of previously never before seen archive footage and images, as well as interviews with leading California historians, Parkinson relatives, and Angela Lansbury who began her working life in Los Angeles as a cashier in Bullock's Wilshire.
John Parkinson, Architect of Los Angeles is co-produced by Clear Sky Films and PBS SoCal, with Stephen Gee as Producer, Writer, Director and Editor, Brenda Brkusic as Executive Producer and Michelle Merker as Associate Producer. Visit https://www.pbssocal.org/programs/iconic-vision-john-parkinson-architect-los-angeles/
ABOUT PBS SOCAL
PBS SoCal (KOCE) is the flagship PBS station for 18 million diverse people across Southern California. As a member-supported non-profit organization, our mission is to deliver content and experiences that inspire, inform and entertain – over the air, online, in the community and in the classroom. PBS SoCal provides compelling locally produced content, and beloved PBS programs including MASTERPIECE, NOVA, PBS NewsHour, Frontline, Independent Lens, a broad library of documentary films including works from Ken Burns, and educational PBS KIDS programs including Daniel Tiger's Neighborhood and Curious George. Our programs are accessible for free through four broadcast channels, and available for streaming at pbssocal.org, on the PBS mobile apps, and via connected TV services Android TV, Roku, Apple TV and Amazon Fire TV. Through PBS SoCal LIVE, we provide in-person arts, culture and civic engagement experiences. And we support our youngest Southern Californians with essential early childhood education content and services. Connect with us at pbssocal.org, and on Facebook, Instagram and Twitter. PBS SoCal recently announced plans to merge with KCETLink Media Group, pending regulatory approvals.