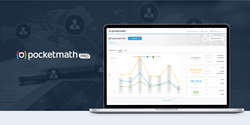 Pocketmath PRO is a uniquely approachable platform engineered to be a joy for media agencies, in-house marketers and those newly venturing into programmatic advertising.
(PRWEB) June 25, 2018
Pocketmath, a leading provider of mobile programmatic advertising platform and solutions, launched its enhanced self-serve mobile demand-side platform commercially today.
Named Pocketmath PRO, this enhanced version of its customer-centric platform is designed to give media agencies, in-house marketers and mobile driven businesses complete control over their mobile programmatic campaigns.
Built upon learnings and feedbacks from Pocketmath's users including active programmatic traders and campaign managers, the platform design and development process address complex challenges that media buyers face today.
These include providing maximum usability for the busy media buyer that needs to manage multiple campaigns and creatives, optimization towards targeted KPI goals, and amplified media buying performance.
Here's a snapshot of Pocketmath PRO:

Friendly, easy-to-use user interface (UI)
Powerful campaign workflow
Multiple advertiser support, with default event and custom tracking URL endpoints
Multiple creatives per ad set
Competitive real-time insights for impactful decision making
Impression and winning rate data to leverage on
Budget pacing capabilities
Easy automation Rules to free up trader's campaign management time
Optimized CPM pricing by default, capped by max CPM
Updated CPC and CPA target optimization
Comprehensive pre-configured HD reporting
With Pocketmath PRO, campaigns are created in a few simple steps. First set the campaign name, objective, total budget and allocating budget, setting CPM, frequency capping, and targeting attributes for different ad sets if more than two ad sets are required. Next, attach either one or multiple creatives and preview how they appear, review and run immediately, or save and start later. Insights and Reports features provide advertisers with real-time insights they need to make faster improvements and impactful decisions to effectively deliver messaging to their target.
Pocketmath PRO culminates years of melding Pocketmath's signature user-friendly yet powerful features. "We are very excited about the launch of Pocketmath PRO. The platform gives our customers powerful features while retaining every drop of our signature ease of use," Eric Tucker, Co-Founder of Pocketmath, explains. "Technology has always been a cornerstone of our uniquely approachable platform. It is a uniquely approachable platform engineered to be a joy for media agencies, in-house marketers and those newly venturing into programmatic advertising."
"We provide industry-leading speed to deliver an incredibly satisfying and responsive experience. For instance, test and learn cycles are dramatically shortened so feedback reaches the user in seconds. Media and marketing executives will appreciate the boost in productivity that quick feedback creates when combined with new workflows that enable the easy management of multiple campaigns and creatives," Eric adds.
Pocketmath aims to grow with small to medium businesses, and even larger businesses by simplifying the complexity of programmatic advertising. Users can effectively advertise on mobile devices and deliver meaningful messages to real mobile users with no minimum ad spending and platform access fee.
About Pocketmath
Pocketmath is a global leading provider of mobile demand-side platform (DSP) and programmatic advertising solutions. Pocketmath PRO, its enhanced self-serve advertising platform, helps media agencies, in-house marketers, and mobile-driven businesses manage mobile campaigns with ease. With no minimum spending and access fee required, measure impact more accurately and make decisions faster. Built on proprietary bidding technology, it takes programmatic trading experiences to greater heights. Enjoy optimized usability, efficiency, performance and connect with consumers in motion. Unleash your campaign's full potential using powerful UI, KPI-driven metrics, automation Rules, real-time insights, and HD reporting.
For more information on Pocketmath and its PRO, visit and learn more at http://www.pocketmath.com or http://www.pocketmath.com/pro. Follow @pocketmath on Twitter, LinkedIn, and Facebook.
Media Contact:
Hannah Jeon
Marketing Manager
hannah(at)pocketmath(dot)com