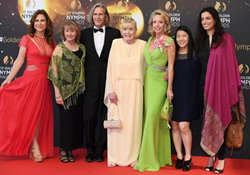 MONTE CARLO, Monaco (PRWEB) June 23, 2018
The PeaceJam Foundation is happy to announce the co-recipients of the 2nd Annual PeaceJam Special Jury Prize. This prestigious prize was awarded to the films "Divine Order" by Zeitgeist Films and "White Right: Meeting the Enemy" by Fuuse at the Monte Carlo Television Festival June 19th, 2018 by Nobel Peace Prize Laureate, Betty Williams.
The purpose of the PeaceJam Special Jury Prize is to recognize outstanding films that embody the spirit of the Nobel Peace Prize, and the prize is awarded alongside the famous Golden Nymph Awards. The PeaceJam Special Jury Prize adds a unique new humanitarian component to the Television Festival. This very special prize is sponsored by Ehthele LTD, a London based manufacturer of luggage, handbags and the like.
The prestigious list of Jury members tasked with selecting the awardees include: Dawn Engle, Co-Founder of the PeaceJam Foundation; Shirli Singh, Philanthropist and President of the Jury; Her Royal Highness Princess Camilla of Bourbon Two Sicilies, Duchess of Castro who is designated as the Monaco Representative to the Jury by HSH Prince Albert II of Monaco; Lara Isoardo, Representative of the Monte Carlo TV Festival; Genie Godula, Anchor at France 24; Raquel Bruno, President of Drive Entertainment Group represented by Russ Bruno; Chiara Sbarigia, General Director, APT, Associazione Produttori Televisivi; Calypso de Sigaldi, VP, AIDA, Association Internationale D'actions Artistiques, and Ivan Suvanjieff, Co-Founder of the PeaceJam Foundation.
"Divine Order" is the story of a young housewife challenges the status quo by fighting for women's suffrage in 1971 Switzerland. "White Right: Meeting The Enemy" is the story of Deeyah Khan, who meets US neo-Nazis and white nationalists face to face and attends America's biggest and most violent far right rally in recent years. Both films expertly represent issue areas outlined by the PeaceJam participating Nobel Peace Laureates.
In addition to the Special Jury Prize, PeaceJam also honored ​Mr. Stephane Valeri, President of the National Parliament of Monaco with the Peacejam Visionary Award and Dr. Cristophe Robino, Parliamentarian with the PeaceJam Leadership Award. Both were recognized for heir public roles in the Principality with work that embodies the 1 Billion Acts of Peace Campaign and the spirit of the Nobel Peace Prize.