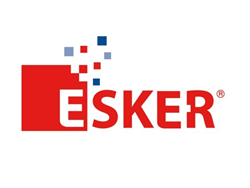 This partnership complements our traditional expertise in ERP integration, content management and archiving.
MIDDLETON, Wis. (PRWEB) June 26, 2018
Esker, a worldwide leader in document process automation solutions and pioneer in cloud computing, today announced its partnership with Viveris, a French-based systems integrator. This agreement will enable Esker to accelerate its solution implementation while maintaining the quality and focus given to its customers. By joining forces with Esker, Viveris expands its digital process automation offering.
As part of the partnership, Viveris is creating a skills center to ensure the successful implementation and sales of Esker's solutions to automate businesses' document processes. The first Viveris consultants have already integrated Esker's training program and are working on several customer projects.
"Our collaboration with Viveris is in line with our strategy to develop a partner network to implement and sell our solutions with their technical and functional added value," said Emmanuel Olivier, chief operating officer at Esker. "Beyond its expertise as a player in the digital transformation of businesses, Viveris shares our core values based on proximity to customers and a vision of technology based on user benefits."
Viveris will be able to accompany companies of all sizes in their document process automation projects thanks to Esker's solutions. By leveraging their technological and operational capabilities, as well as common values, the two companies expect to accelerate growth and actively facilitate the digital transformation of French companies.
"We decided to integrate Esker's solution within our offerings to meet our customers' increasing document process automation needs," said Eric Stefani, general manager at Viveris. "This partnership complements our traditional expertise in ERP integration, content management and archiving. Our teams will now be able to respond to business issues such as the automation of supplier invoice processing."
About Viveris
Viveris is a systems integrator who employs 800 people in France across seven offices (Paris region, Belfort, Grenoble, Lille, Lyon, Strasbourg, Toulouse) and achieved 63 million euros in total sales revenue in 2017. The company is divided into two business divisions: the industrial and technical engineering department and the information systems engineering division.
About Esker
Esker is a worldwide leader in cloud-based document process automation software. Esker solutions, including the acquisition of the TermSync accounts receivable solution in 2015, help organizations of all sizes to improve efficiencies, accuracy, visibility and costs associated with business processes. Esker provides on-demand and on-premises software to automate accounts payable, order processing, accounts receivable, purchasing and more.
Founded in 1985, Esker operates in North America, Latin America, Europe and Asia Pacific with global headquarters in Lyon, France and U.S. headquarters in Madison, Wisconsin. In 2017, Esker generated 76.1 million euros in total sales revenue. For more information on Esker and its solutions, visit http://www.esker.com. Follow Esker on Twitter @EskerInc and join the conversation on the Esker blog at blog.esker.com.