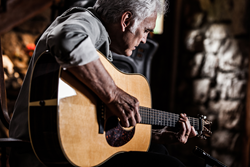 We are thrilled to win the Telly and are headed to PBS
NASHVILLE, Tenn. (PRWEB) June 23, 2018
Barnegie Hall, Verlon Thompson's unique songwriter video program has won a prestigious Telly Award for excellence in music web series. The Telly is the premier award honoring groundbreaking work "across all screens." A record-shattering number of entries were reviewed by the 39th Telly Judging Council comprised of advertising agencies, production companies, and major television networks, reflective of the multiscreen industry.
"It is exciting to see how perfectly this year's winners capture the innovation and energy of the rapidly changing video and television industry," said Tellys managing director Sabrina Dridje.
About Barnegie Hall:
In his stunning barn-turned studio, creator and career singer/songwriter Verlon Thompson trades uncensored tales, unplugged tunes and unusual "tricks of the trade" with some of the most inspiring and influential musicians in Nashville (and the world.)
Guests include the writers of nearly 50 number one songs, recorded by legends like Blake Shelton, Garth Brooks, Brooks and Dunn, Don Williams, Dolly Parton and Brad Paisley to name a few.
This 13 part media program offers music of mercy, depth, flesh and blood, along with meaningful conversation and a few Music Row memories. (There are also "pickin tips" that will transform any level of guitar playing.)
These are the sort of intimate performances that captivate so many visitors to the Bluebird Cafe and Nashville's many storied listening rooms. Barnegie Hall turns your living room into a "listening room"
You'll hear the songs you love, by people you may not know yet, but you'll never forget.
Binge watchers tell us:
"It was so enlightening to hear the hits the way they were first born"
"If you don't know Verlon Thompson, prepare to be amazed."
"This is the best music show that's not on TV...yet"
But that's about to change. We are thrilled to announce Barnegie Hall will soon be heading to PBS nationwide, through presenting station WCTE, Cookeville, Tn. Key sponsorships and underwriting opportunities are still available for brands eager to be associated with top quality music programming.
Barnegie Hall is produced by Genuine Human Productions, a full service idea factory dedicated to real people and true stories, bringing any vision to life on screens of all size