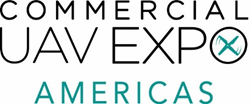 "This year we are featuring many new companies as well as welcoming back those that have supported us since the launch of the event. Exhibitors are coming from around the world to showcase their new and innovative products, and we are excited for our attendees to have this interactive experience."
LAS VEGAS (PRWEB) June 21, 2018
More than one hundred of the world's top UAS vendors have already signed on to showcase their solutions at the 2018 Commercial UAV Expo, more than any other commercial drone event in North America. These exhibitors will be displaying cutting-edge airframes, components, software and services as well as end-to-end solutions focused on commercial applications. They are the best in terms of innovation, and their products and services will offer attendees access to the newest technology in the industry. The fourth annual Commercial UAV Expo will be taking place October 1-3 at the Westgate Hotel in Las Vegas. Full event information can be found here; registration is open for event at https://xpressreg.net/register/uava1018/attendee/reginfo.asp?sc=206539
"Year after year, we deliver the highest quality audience for our exhibitors and we are thrilled that more than 110 best-in-class UAS vendors in the market have already committed to exhibiting at our fourth annual event," said Lisa Murray, Group Director of Diversified Communications and organizer of Commercial UAV Expo. "This year we are featuring many new companies as well as welcoming back those that have supported us since the launch of the event. Exhibitors are coming from around the world to showcase their new and innovative products, and we are excited for our attendees to have this interactive experience." She added that companies are signing on to exhibit on a daily basis, and that the exhibit hall will have more than 200 booths.
Commercial UAV Expo was recently recognized by Trade Show Network News as one of the Top 25 Fastest Growing trade shows. In addition to the show floor, attendees will hear from FAA's Daniel Elwell and DJI's Michael Perry who will Keynote and have the opportunity to attend six plenary sessions, eight deep dive vertical industry workshops, offsite drone demonstrations for various applications from inspection to public safety, Exhibitor Education Theaters and several networking events. For a preliminary list of speakers and a program overview, visit https://www.expouav.com/conference-information/.
Attendees will be able to qualify and compare products and services from the exhibitors below who have already committed. "Being able to see hundreds of products and speak to technical leads all in one place at one time is invaluable for professionals trying to determine which solutions best match their needs," said Ms. Murray. "We help streamline the process by bringing together the right mix of best-in-class commercial UAS suppliers."
The exhibitor list grows every day, check http://www.expouav.com/exhibitor-list/ for the most updated list, which includes the following 110+ companies
3D TARGET SRL
3DReshaper
4DMapper - Geospatial Ecosystem for Enterprise
Acecore Technologies
AEgis Technologies
AeroDimension LLC
Aeryon Labs Inc.
Agrowing
Ainstein Inc.
Airborne Innovations LLC
Airbus Aerial
Airgon LLC
Alta Devices
ALX Systems SA
AP Equipment Financing
Applanix
ARA Robotics
Arctech Charge
Ardenna Technologies
BAE Systems
BirdsEyeView Aerobotics
Blue Marble Geographics
C-Astral Aerospace
Cardinal Systems
Carlson Software
Cepton Technology
Cheonpung Unmanned Aircraft Co., LTD
ComNav Technology Ltd.
Connect Tech
DAT/EM Systems International
Delair
Desert Rotor
DJI
Drone Harmony
Drone Nerds Inc.
DroneDeploy
DroneInsurance.com
DronesBench by DPM
Elettronica
Epson America, Inc.
Esri
Ewatt Aerospace
Field of View LLC
Flyability
FlyCam UAV
Fortem Technologies, Inc.
Futaba Corporation of America
Geodetics, Inc.
Geometrics
GLOBAL AEROSPACE
GPS Networking, Inc.
Harris Corporation
HAZON Solutions
Hojung Solution
Honeywell Aerospace
Inertial Sense, LLC
Inside Unmanned Systems
Inspired Flight
Intel
Jeonnam TechnoPark
Leica Geosystems Inc.
LiDAR USA
Marlin Equipment Finance
Matrix International, Inc.
Maxon Precision Motors
microdrones
Microhard Systems Inc.
MicroPilot
New York: UAS Central/
Nuair Alliance
NW Rapid Mfg
Optelos
Orbit GT
Ouster
Oxford Technical Solutions Ltd.
Parrot Business Solutions
Perkins Coie
Phase One Industrial
Phoenix LiDAR Systems
Pix4D
Progress Rail Services
Pulse Aerospace, LLC
Quantum-Systems GmbH
R4 Robotics Inc.
RIEGL USA Inc.
SBG Systems S.A.S.
SCI Technology Inc.
SenseFly
Septentrio
SHEPHARD MEDIA
Silent Falcon UAS Technologies
Silicon Forest Electronics
SimActive Inc.
SKYNETWEST - sUAS Service Provider
Sunhillo Corporation
Survae
Swift Engineering, Inc.
Terrasolid Ltd.
The University of Texas at Arlington College of Engineering
Topcon Positioning Systems, Inc.
Trillium
Trimble Navigation
U-Drone Robotics Australia
Unmanned Safety Institute
Unmanned Systems Technology Magazine
Vectornav Technologies
Vertical Partners West, LLC
Virtual Surveyor nv
VirtualGrid
Wave3D CO LTD
Woori Technology Promotion Corporation
XCraft Enterprises, Inc.
XSENS TECHNOLOGIES B.V.
YellowScan
Exhibit space is selling fast, but there is still time to reserve space. For exhibiting information contact Katherine Dow, Sales Manager, at kdow@divcom.com or 207-842-5497.
About Commercial UAV Expo Americas
Commercial UAV Expo Americas, presented by Commercial UAV News, is a conference and exhibition exclusively focused on the commercial drone market covering industries including Surveying & Mapping; Civil Infrastructure; Aggregates & Mining; Construction; Process, Power & Utilities; Precision Agriculture; Law Enforcement, Emergency Response and Search & Rescue (SAR). The fourth annual Americas event is taking place October 1-3, 2018 in Las Vegas. Commercial UAV Expo Europe launched in Brussels in June 2017 and will take place in Amsterdam 8-10 April 2019. For more information, visit http://www.expouav.com and http://www.expouav.com/europe or email info@expouav.com.
The events are organized Diversified Communications, a leading organizer of conferences, trade shows and online media with 15 years in the geospatial arena, including Commercial UAV Expo Americas, Commercial UAV Europe, Commercial UAV News, SPAR 3D Expo & Conference, SPAR3D.com, AECNext Technology Expo & Conference, AEC Next News and International LiDAR Mapping Forum. http://www.divcom.com