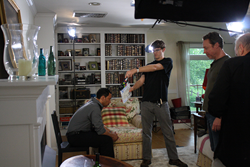 A Host of Sparrows is the third feature written and directed by Penn State Mont Alto Associate Professor Kevin Alexander Boon.
(PRWEB) June 25, 2018
The Franklin County Visitors Bureau recommends attending the screening of locally-shot feature film "A Host of Sparrows" at the historic Capitol Theatre on July 7. This screening will start at 7 p.m. and tickets are available at thecapitoltheatre.org for $25.
"A Host of Sparrows" is the third feature written and directed by Penn State Mont Alto Associate Professor Kevin Alexander Boon. The film is a crime thriller about an ex-con who plans to retire to Florida with a fortune in stolen money. However, he gets waylaid when his former boss coaxes him to a remote bed and breakfast to protect the daughter he has never met. When a storm traps him and six others at the bed and breakfast, events turn deadly. Eventually, these seven seeming strangers discover that their lives are connected by a tragic murder, which occurred 11 years earlier.
This film is the third to come out of the Mont Alto Film Project on the Penn State Mont Alto Campus which Boon formed in 2008-2009.
"With the advent of non-film cameras, I thought it would become possible to make a full-length feature with people and just a lot of effort," Boon said.
The Mont Alto Film Project morphed into the Open KEG Film Project, named for Kevin (writer/director), Edwin Koester (cinematographer), and Gillian Colley (producer) who formed the core of the creative community behind the film.
The crew includes many people who worked on the earlier films and has many ties to Penn State. Colley completed a bachelor's degree during filming. Koester is a Penn State Mont Alto alum who earned a bachelor's degree in film and video production from Penn State University Park. There are a host of others, such as Allen Cramm who was key grip for A Host of Sparrows and was an original member of the Mont Alto Film Project.
Boon's first two films, "Two Days Back" and "Ghosting," were successful and the later was then distributed worldwide by Sony's The Orchard.
"A lot of people involved wanted to do it again," Boon said. "We were working with those people again as well as former Penn State graduates who came back and helped put it together."
This film project has drawn on community support since the beginning to get off the ground.
"It brought a lot of people together," Boon said. "The community really showed that it supported us and they have been really wonderful and have been very cooperative, welcoming and excited. At some places, the property has become part of the machinery of the film. It has been a creative community of people working together and has been a really rewarding, warm experience."
It was a "fortuitous" discovery that led to the realization of a main location in Boon's script: The Inn at Birches Garden, a bed and breakfast in Greencastle. The inn, which is currently for sale, is vacant lending itself to uninterrupted shooting and free-range to showcase a beautiful Franklin County property.
The lead actors in the film include Mike Sutton, who has appeared in over 80 films and television shows; New York City-based actress Elizabeth Wyld, who has played the role of Crissy in the international tour of "Hair;" and DC Cathro, a Chicago-based actor who has appeared in film, television, and on the stage. Local actors include local celebrities such as Jim Krut of York, Pa, who is internationally known as the "Helicopter Zombie" for his role in George Romero's Dawn of the Dead.
In addition to being shot at The Inn at Birches Garden in Greencastle, A Host of Sparrows was filmed locally in Pennsylvania and Maryland, including locations in Hanover and Hagerstown.
The screening will be accompanied by a Q&A session with the cast. There will be free posters and giveaways and the cast will be available for a meet and greet before the event and afterwards for autographs in the theatre lobby.
The Franklin County Visitors Bureau invites all to explore Franklin County PA and enjoy the history, arts, recreation, natural beauty, fresh foods and warm hospitality of communities like Chambersburg, Greencastle, Mercersburg, Shippensburg, and Waynesboro. Franklin County PA is located just north of the Mason Dixon Line and an easy drive to Washington DC, Philadelphia, and Pittsburgh. Discover more….plan your visit at ExploreFranklinCountyPA.com , by contacting 866.646.8060 or 717.552.2977.