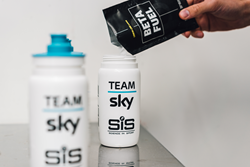 SAN FRANCISCO (PRWEB) June 22, 2018
Science in Sport, official nutrition supplier of Team Sky, USA Cycling, and USA Triathlon, today announced its plans to launch Beta Fuel, the world's most powerful sports drink. Beta Fuel is a breakthrough technology that delivers the maximum amount of carbohydrate in a 2:1 ratio of glucose to fructose while preventing gastrointestinal (GI) distress through an isotonic solution. Science in Sport's Beta Fuel will initially be available in two flavors and can be purchased online at ScienceInSport.com, starting in late July. Consumers can secure early access by pre-registering online here.
Beta Fuel was designed for long endurance events at least 2.5 hours, and has been tested by elite athletes since late 2017, including 12 top-tier sporting organizations and teams, such as British Cycling, Canyon//SRAM, and Team Sky. Following trials at training camps and Paris-Roubaix, Beta Fuel was used at the 2018 Giro D'Italia and was a key component of Team Sky's fueling strategy during their iconic Stage 19 win.
"With such unprecedented success of Team Sky while using Beta Fuel, we knew we had a remarkable product to share," said Ashley Read, Science in Sport Marketing Director. "We're proud to now fast-track the launch of what is seen amongst our elite network as the holy grail with the maximum amount of energy without risk of GI distress."
"Science in Sport is committed to making sports nutrition more effective and more convenient, and they've certainly produced the goods once again with the Beta Fuel product," said three-time Tour de France champion Chris Froome. "Having been involved in the testing of the product, I can certainly recommend the impact it has on performance."
One of the major challenges of elite endurance racing is helping athletes consume the maximum amount of carbohydrates without causing upset stomachs. Beta Fuel is packed with 80 grams of carbohydrate, 20 mmol/L of sodium, and 500 ml of fluid--the optimal isotonic balance. Endurance athletes will enjoy the new naturally flavored and pH-neutral sports drink that delivers maximum energy without causing GI distress.
Science in Sport Beta Fuel is undergoing performance trials with Porsche Human Performance Centre and is manufactured in the UK at the company's Innovation Centre in Lancashire. Science in Sport Beta Fuel, like all SiS products, is subject to the world's highest standard of Banned Substance testing and carries the Informed Sport certification mark.
To request additional information on Science in Sport's Beta Fuel, as well as the full SiS nutritional product line, please contact PR representative:
Nicole Wood
530.277.3951
nicole(at)truecommunications.com
About Science in Sport, Inc.
Science in Sport plc is a leading sports nutrition company that develops, manufactures and markets sports nutrition products for professional athletes and sports enthusiasts. SiS is a strong brand in the elite athlete community - in the 2016 Rio Olympics, 34 medal-winning athletes or teams used SiS products (compared with 24 in 2012).
The SiS core product ranges include: SiS GO, comprising energy powders, isotonic gels, energy bars and shots; SiS REGO, including protein-based recovery powders; SiS Protein, products specifically designed to contribute to athletes' lean muscle mass growth and maintenance.
SiS is currently the official sports nutrition partner to professional cycling organisations USA Triathlon, Team Sky, British Cycling, Cycling Australia and USA Cycling. Along with supplying over 40 professional English & Scottish League football teams, SiS is Sports Nutrition Partner to the world's most popular football club, Manchester United FC. In addition, Olympian Adam Peaty MBE and Olympian Mark Cavendish MBE are Brand Ambassadors.
SiS was founded in 1992 and is headquartered in London & San Francisco. Its manufacturing facility is in Lancashire, UK.
SiS shares are traded on the AIM market of the London Stock Exchange under the ticker symbol SIS.
For further information, please visit http://www.scienceinsport.com