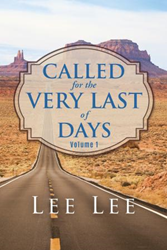 This is the beginning of the knowledge that His church is hungering for—knowledge of how to have the abundant spiritual LIFE that the Lord Jesus brought and gives
EL PASO, Texas (PRWEB) June 23, 2018
Within the pages of Lee Lee's new book, Called for the Very Last of Days Volume 1, ($16.99, paperback, 9781545636077; $8.99, e-book, 978154636084) readers will find the author's captivating story of his spiritual journey that took him from the desert wilderness of Chihuahua, Mexico to a place of treasured intimacy with Jesus Christ. In this motivating biography, Lee shares the call of the Lord Jesus on his life and God's desire and plan to cleanse His church in these very last of days as He prepares the earth for His second coming.
"This is the beginning of the knowledge that His church is hungering for—knowledge of how to have the abundant spiritual LIFE that the Lord Jesus brought and gives," states the author. "It gives the reader true Christ Jesus-LIFE Live-ing, with understanding, in real and personal Way… of Himself! The Church desperately needs revival fruits that remain in true restoration, now more than ever." God's Word says, "My people perish for lack of knowledge," including the knowing of content and know-how, and so darkness reigns. Lee explains, "This is the first in the series of books already given by the Lord and finalized in 2012, awaiting the impartation of His LIGHT of LIFE into His Church. This includes His gift to be received of Loving TRUTH with wholehearted sincerity – in, by, with and through His Spirit of and Life."
Lee has written a series of fourteen books, GOD SPEAKS – 1 to 14, including the second volume of Called for the Very Last of Days, that serve as critical manuals for the Body of Christ. He was completely separated unto the Lord Jesus, and so Lee followed His leading him into the desert of Chihuahua, Mexico, in the forever School of the Holy Spirit. There, the Lord Jesus Christ developed Lee's purpose and calling, providing him with spiritual growth and instructing him, including through miracles, the Word of God, and the lives of the students whom God brought into Lee's life.
Xulon Press, a division of Salem Media Group, is the world's largest Christian self-publisher, with more than 12,000 titles published to date. Called for the Very Last of Days Volume 1 is available online through xulonpress.com/bookstore, amazon.com, and barnesandnoble.com.