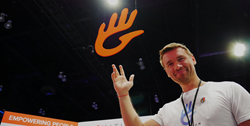 SAN FRANCISCO (PRWEB) June 23, 2018
GNation was honored to attend the 24th Electronic Entertainment Expo, E3 2018, from June 12th to June 14th in Los Angeles. E3 is the world's premiere trade show for computer and video games and related products, and brings together people from all aspects of the video game industry.
More than 69,200 people attended E3 2018, and millions more from around the globe watched it online. The convention, which is owned and produced by the ESA, featured more than 200 exhibitors showcasing 3,250 different gaming products.
GNation exhibited a high-profile booth showcasing its partnerships and strategic alliances with a number of leading companies, including IBM, Microsoft, ESL and others. The GNation delegation was led by Mr. Sergey Sholom, President of the GNation alliance, and included senior advisers, engineers, and business development experts. The GNation exhibit received wide attendance and recognition.
GNation is working closely with the United Nations System to engage the gaming community in supporting the UN's 2030 Agenda for Sustainable Development.
"We are proud to be working with the United Nations Office for Partnerships to new initiatives to accelerate achievement of the SDGs," stated Mr. Sholom. "Our alliance is getting bigger and bigger, and being joined by many gaming companies as well as game stars. Because of one simple reason: WE CARE!"
Along with its partners, GNation is working to harness the power of the rapidly growing gaming industry and community to become an open platform that will advance the mantra of doing well and good.
GNation's goal is to create a community not divided by skin color, language barriers, or physical borders, and to unite gamers through their shared passions, and desire to improve the world.
For more information on GNation, you can visit their website at http://www.gn.org.