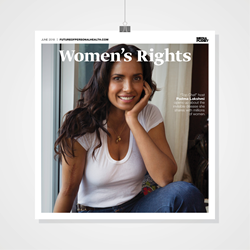 Pain is your body's way of telling you something is wrong.
NEW YORK (PRWEB) June 22, 2018
Today, Mediaplanet announces the launch of the first edition of the "Women's Rights" campaign. This campaign will advocate for awareness of common yet too often unspoken issues affecting millions of women both across the United States and around the world. The print component is being distributed to a key audience of women in the California area through the LA Times, as well as at multiple conference events throughout the year, including PERIOD Con 2018, The National Reproductive Health Conference and more. The digital component is distributed nationally through Mediaplanet's content hub, The Future of Personal Health, and through social influencer sharing. To explore the digital version of the campaign, click here.
Long-time women's rights advocate Padma Lakshmi graces the cover of the print publication. Through an exclusive interview on the interior, Padma shares her experience with endometriosis, a disease that affects 1 in 10 women in the United States alone, yet is shrouded in shame and stigma. "Listen to your body," the "Top Chef" host and producer urges all women. "Pain is your body's way of telling you something is wrong."
Inside, other female advocates share their stories, including YouTube star Ingrid Nilsen, who sheds light on the little-known "Pink Tax" that is applied to all menstrual products in the United States. "Women's bodies are glorified when they are considered something sexual but are gross when they are doing something completely natural," she shares. "That kind of silence really fosters a world where people really don't realize what's going on."
This campaign was made possible with the support of PERIOD, The United Nations Population Fund, The Women's March, Pipeline Equity, Procter & Gamble's Always, Private iDNA, Lena Cup, The Society for Menstrual Cycle Research, Daré Bioscience, AstraZeneca, Immunomedics, Pipeline Equity, Nestle's Lean Cusine and Honey Pot.
About Mediaplanet
Mediaplanet specializes in the creation of content marketing campaigns covering a variety of industries. We tell meaningful stories that educate our audience and position our clients as solution providers. Our unique ability to pair the right leaders with the right readers, through the right platforms, has made Mediaplanet a global content marketing powerhouse. Our award-winning stories have won the hearts of countless readers while serving as a valuable platform for brands and their missions. Just call us storytellers with a purpose. Please visit http://www.mediaplanet.com for more on who we are and what we do.
Press Contact:
Isabel Carretero
isabel.carretero@mediaplanet.com
(646) 619-3514