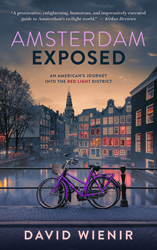 "A provocative, enlightening, humorous, and impressively executed guide to Amsterdam's twilight world." -- Kirkus Reviews
WEST HOLLYWOOD, Calif. (PRWEB) June 26, 2018
Just weeks into its publication by De Wallen Press, Amsterdam Exposed: An American's Journey Into The Red Light District has made its mark as one of the year's most compulsively readable memoirs, sparking debate and garnering endorsements from top book reviewers and Hollywood celebrities alike.
Praised by Kirkus Reviews as "a provocative, enlightening, humorous and impressively executed guide to Amsterdam's twilight world," the 2018 memoir has been called "extraordinary" and "the next best thing to actually being there" by Midwest Book Review and "an honest though naïve look into the workings of Amsterdam's red-light district" by Publishers Weekly.
Hollywood is loving it too, including two stars from Sons of Anarchy: Tommy Flanagan crowning it "one of the best reads of my life," and David Labrava, who authored Becoming a Son, declaring "This is one fantastic book. An insider's look at a world few understand. And I lived there." But this isn't just a book for Hollywood bikers. Dougie Baldwin (Disjointed) hailed it as "beautifully therapeutic," Adam Rodriguez (Criminal Minds and Magic Mike) called it "important, brave and moving," Michael Trucco (Battlestar Galactica) summed it up as "compelling, insightful, tense, heartbreaking, often humorous, but most importantly, never judgmental," and Kevin Mardesich, former head of Oliver Stone's Story Department, called it "immensely entertaining" and "a joy to read."
Amsterdam Exposed is the fourth book by entertainment lawyer David Wienir (Making It On Broadway, 2004, etc.) who recently traveled to Amsterdam for its launch at The American Book Center, the Netherlands' premier English-language bookstore. During his visit, he also shared copies with the Prostitution Information Center, the Museum of Prostitution and dozens of women working in Amsterdam's famous widows.
An American abroad and love story eighteen years in the making, Amsterdam Exposed is an uplifting tragedy that pulls back the shroud of secrecy and shame that has long cloaked the women of the district from full view, dispelling misconceptions and taking readers on an emotional, unadulterated, and unprecedented journey that will forever transform their understanding of one of the most famous tourist attractions in the world and the women who work there.
"What makes the book most provocative is that it neither glorifies prostitution nor condemns it," says Wienir, who was educated at Columbia, Oxford, The LSE, Berkeley Law, and the Vrije Universiteit Amsterdam. "It doesn't paint the world in black-and-white, as so many are prone to do. Radical feminists may dismiss it, as may those who pretend prostitution is just another job," Wienir continues. "I'm fine with that. I didn't write it to please everyone. Rather, I wrote it to provide dignity to the women who, for whatever reason, end up in the district, and to help reshape a debate that extends far beyond Amsterdam and to the very core of humanity itself."
Veteran journalist Mansfield Frazier from Cool Cleveland agrees, calling it "an impressive tour de force . . . that is surely going to raise as many eyebrows as it will have heads nodding in approval," with Haute-Lifestyle writing Amsterdam Exposed "grabs your attention, thrashing your senses with each page and delivers a shocking look into the forbidden."
As emotionally stirring as it is thought-provoking, Amsterdam Exposed is as close as you can come to a free trip to Amsterdam without leaving your couch. The book reveals:
· The devastating realities of Amsterdam's red light district and the women who inhabit its sexy, neon-lit streets.
· A world just about gone, as working girls are now being exiled from the city's core and coffeeshops selling cannabis are shuttering their doors.
· Deep insights into prostitution, in Amsterdam and beyond.
· An authentic coming-of-age story about conquering fear, stepping outside your comfort zone, embracing change, and doing the impossible.
· What life was like as an American exchange student in Europe in the late '90s.
· 2018's most unusual love story: how the author's friendship with, and promise to, a Dutch prostitute shaped him – and changed both of them forever.
A must-read for anyone who has ever spent time in Amsterdam or dreamed of doing so, Amsterdam Exposed is available in paperback and eBook format wherever books are sold, the audiobook to be released later this year.
David Wienir is a business affairs executive at United Talent Agency and is married to Dr. Dina, the inspiration for the Nancy Botwin character in the show Weeds.
Keep up with all things Amsterdam Exposed at http://www.amsterdamexposed.com and connect with David on Instagram @RedLightDistrictBook and Twitter @AmsterdamBook.
REVIEW COPIES OF AMSTERDAM EXPOSED AVAILABLE UPON REQUEST