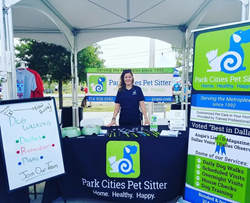 "We love coming to this event because we get to see so many of our existing clients in a family-friendly, relaxed setting." Joette White, President of Park Cities Pet Sitter
DALLAS (PRWEB) June 28, 2018
Park Cities Pet Sitter has announced they will be exhibiting at the Park Cities annual 4th of July Parade and Festival, presented by the Rotary Club of Park Cities. The Parade portion of the event begins at 9am at the Highland Park Town Hall on Euclid Avenue and Drexel Drive, with floats winding through the Park Cities and finishing at Goar Park, located at 3806 University Blvd. Park Cities Pet Sitter will have a booth at the Goar Park Festival portion of the event, and will be answering questions about the dog walking, pet sitting and dog training services they provide to Dallas, Richardson and Plano communities. The Goar Park celebrations begins at approximately 9:30am.
Park Cities Pet Sitter President, Joette White, says the annual Park Cities Parade and Festival is one of the busiest events her company participates in each year. "We love coming to this event because we get to see so many of our existing clients in a family-friendly, relaxed setting," said White. "We also love getting to meet new people that may be new to the area and are looking for an established dog walking and pet sitting service like Park Cities Pet Sitter. Educating them on how our business works and the kinds of things they should be inquiring about when interviewing a new dog walking and pet sitting company is really valuable. Obviously we hope they will choose to hire us, but even if they don't, we want them to know all of the factors to consider when choosing someone to take care of your cherished pets and home."
Park Cities Pet Sitter will exhibit at the event from approximately 9am-1pm on July 4th. To learn more about this event and other upcoming Park Cities Pet Sitter events, visit https://www.pcpsi.com/events/.
###
About Park Cities Pet Sitter: PCPSI has served the Dallas, Richardson and Plano areas 7 days a week, 365 days a year since 1992, and was recently named the 2017 Business of the Year by the National Association of Professional Pet Sitters. Dog walking, pet sitting, pet taxis, overnight sitting, pet supply shopping, and dog training are some of the many services PCPSI offers. Park Cities Pet Sitter is bonded and insured, and all sitters are employees--not independent contractors. A manager is on-call 24 hours a day to handle any emergencies. Go to http://www.pcpsi.com to learn more.