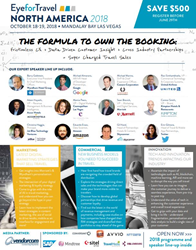 LAS VEGAS (PRWEB) June 23, 2018
Wyndham Hotel Group, Amazon, United Airlines, Skyscanner, Google, Booking.com, Marriott, Accor Hotels, Twitter, Cosmopolitan Las Vegas, Winding Tree and more are just a handful of experts confirmed to speak at the upcoming EyeforTravel North America 2018 Summit, taking place at the Mandalay Bay Las Vegas on October 18 -19.
400+ heads of marketing, distribution, revenue management, data analytics, mobile innovation, and travel tech experts from some of the biggest brands will meet with one goal: to identify the strategies, partnerships, innovations and business models that will make their companies thrive in the future, and to discuss business critical trends affecting the online travel world today.
Navigating the crowded field of distribution, the potential of artificial intelligence and emerging technologies, delivering a superior customer experience(CX), catapulting profits through industry partnerships and innovative ways to diversify revenue portfolios are just some of the topics being covered at this 20th Annual US flagship show.
Click here to receive your copy of the brochure and to view the full agenda
The internet's control over the travel consumer, mobile innovation and the potential of emerging technologies such as AI is forcing travel brands to evolve the way they work, deliver frictionless CX, leverage data-driven insight and create new business models and industry partnerships says EyeforTravel Project Lead, Renu Kannu. She adds: The industry is demanding higher profits, increased loyalty and tools to personalize to deliver that exceptional CX throughout the booking cycle – all of which are real concerns that can be solved by joining a hotbed of senior-level travel execs in Vegas this October.
The Unrivalled Speaker Line-up for 2018 includes:
1. Barry Goldstein, Executive Vice President & Chief Marketing Officer, Wyndham Hotel Group
2. Michael Almeraris, AR/VR Head of Developer Partnerships, Google
3. Michael Marino, SVP & Chief Experience Officer, Caesars Corporation
4. Ravi Simhambhatla, VP – Commercial Technology & Corporate Systems, United Airlines
5. Adam Hayashi, VP – Revenue Management & Business Intelligence, Accor Hotels
6. Mamie Peers, VP – Digital Marketing, Cosmopolitan Las Vegas
7. Sean Brevick, VP – Marketing and Digital Services, Marriott
8. Connor Smith, VP – Brand, Kimpton Hotels & Restaurants
9. Christina Heggie, Principal, Jet Blue Technology Ventures
10. Eduardo Erazo, Data Scientist, Amazon
11. Gil Harel, Head of Partnerships Hotels & Content, Skyscanner
12. Erin Gilmore, Head of Travel & Mobile App Partnerships, Twitter
13. Pedro Renaud Anderson, Founder, Winding Tree
14. Michael Childers, Chief Consultant, Content & Media Strategy, Lufthansa Systems
Here's what some of the 2017 attendees had to say:

eftusa delivered tenet challenging and thought stimulating presentations followed by the opportunity to network informally with industry peers and thought leaders. This type of event re-energizes and resets one enthusiasm for the travel industry (Chief Technology Officer, Hostelworld)
Eye for Travel brought great insight into the potential future developments, technologies and strategies that we may see emerging in the next 5-10 years (CEO, RoomKey)
Tremendous value from many of the sessions, with actionable inspiration to take back to work with me (Brand Marketing Manager, Hard Rock Hotel & Casino Las Vegas)
This conference drove home the necessity of personalizing and contextualizing data in customer interactions (Chief Consultant - Content & Media Strategy, Lufthansa Systems)
Very happy with the event. I felt like the standard of attendees were top-notch and very knowledgeable! I also appreciated being sent the attendee list (mobile app) in advance so I could set up meetings in advance during the networking breaks (CEO & Co-Founder, Globespinning)
Don't miss out on the opportunity to join some of travel's most inspiring and innovative brands coming together to learn, network and pioneer change in the industry. Learn more about the summit and get the latest event updates here!
Companies confirmed to attend this year include: Expedia, Air Canada Vacations, Allegiant Air, Choice Hotels, MGM Resorts, Magnuson Hotels, Las Vegas Sands, Hopper, and a whole lot more.
Take a sneak peek at the 3-minute wrap up video from last year
Contact the team directly at – renu(at)eyefortravel(dot)com. EyeforTravel is a community where the world's top online travel brands – from hotels to airlines, online travel agents, cruise, car hire firms and more – come to meet to drive forward growth and innovation in the industry. We aim to provide you with industry focused news, events, reports, updates and information. EyeforTravel Limited is a registered company. The Company Registration number is 06286442. It is also registered in England & Wales. Registered office is 7-9 Fashion Street, London E1 6PX, United Kingdom.