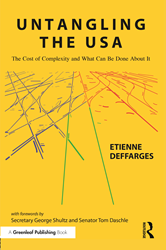 Complexity is not in our DNA.
SAN FRANCISCO (PRWEB) June 25, 2018
As Americans make plans to celebrate their country's 242 years of independence, a new book is out that says we must return to the country's roots of elegant and effective simplicity to untangle many of the complex problems with our economic, health care, energy, government, and political systems.
"Complexity is not in our DNA," Etienne Deffarges writes in Untangling the USA: The Cost of Complexity and What Can Be Done About It.
An entrepreneur who was part of the founding team and vice-chairman of a health care IT start-up that grew in six years from the proverbial "blank sheet of paper" to a $1.2 billion IPO on the NYSE in 2010, Deffarges is also a former management consultant and business executive. As a senior partner with Booz Allen Hamilton and global managing partner with Accenture, he consulted with businesses and governments all over the world. He also attended and spoke at numerous World Economic Forum meetings over a 15-year period. A French native, Deffarges became a U.S. citizen in 1993.
In Untangling the USA, Deffarges details how America has gotten away from it simple roots to an overly-complex current state of affairs.
"Our Constitution is legendary in its brevity and simplicity of purpose; our early inventors and industrialists thrived in making our world simpler and easier to live in; we won World War II with simple and very effective tools, and the Cold War because our market-based approach to economics was much more effective than central planning complexity," he writes.
In particular, Deffarges celebrates the extraordinary relevance of the U.S. Constitution, quoting at length the French diplomat, political scientist, and historian Alexis de Tocqueville, whose analysis and words of praise on the young American Republic in his 1835 work, Democracy in America, appear like they were written in this century.
With praise from former Senate Majority Leader Tom Daschle (D-SD), and former Secretary of State George Shultz, who served in four cabinet positions for three Republican presidents, Deffarges' Untangling the USA offers analysis on and solutions to the current state of America from which all sides can find common ground.
Interestingly, Deffarges opens Untangling the USA with anecdotes from the National Football League, including the "tuck rule" of Tom Brady fame. From there, Deffarges tackles everyday issues with health care, energy and utilities, finance, taxation, and laws and regulations. He quantifies the costs of complexity in so much of our economy, and also uses case studies from other developed countries in areas where better outcomes can be achieved at lower costs.
Using health care as an example:
Deffarges describes 12 types of institutions (e.g., for-profit and not-for-profit private insurance groups and hospital systems, federal and state level public insurance, public hospitals and the VA) that make up the U.S. medical landscape. He cites studies that show 2016 U.S. health care spending was 17.9 percent of our Gross Domestic Product, compared to an average of 10.2 percent of GDP for the European Union and Japan, with poorer aggregate outcomes in the U.S. Among the several "cost factors" caused by this complexity, Deffarges lists "fee for service" pricing, administration and IT complexity, rising drug prices, and too few general practitioners.
A possible solution? An intriguing Basic Medicare for All plan (but not single payer) that would, in part, restructure the current federal and state entities involved in health care, and simplify their interfaces with the private sector, which would be able to offer "supplemental" or "advantage" plans to everyone in the country.
To support his proposed "solutions to improve our lives," Deffarges analyzes five major root causes of our current complex state of affairs. He says American's complexity has been caused by:
1. Our recent history and politics
2. The increased role of finance in the U.S. economy
3. Globalization and outsized CEO compensation
4. Our education system and "college for all" mentality
5. America's global insulation
Untangling the USA includes forewords by both Shultz and Daschle, and has received much early praise, including:

"Untangling the USA is a lucid and original exposure of the costly, fractious and self-imposed paralysis affecting our nation. It is a must-read call to action for policy makers at all levels." – Brian Dickie, Former President of Booz, Allen & Hamilton Inc.
"A fascinating look at all aspects of our world, from sports to government regulation. Etienne Deffarges' unique insight is that we started with simple and clear policies, which grew increasingly complex over time." – Jean Kovacs, Partner, Hillsven Capital; Former CEO and Founder, Qualix Group, and Comergent Technologies; Global Board, HBS Alumni
"A thought-provoking read for anyone trying to find simple and effective solutions to a complex and often ineffective healthcare system." – Robert Stanek, Former President and CEO, Catholic Health East; Past Chairperson, Board of Directors, Catholic Health Association of the United States
Visit EtienneDeffarges.com to learn more about Untangling the USA.
Untangling the USA:
The Cost of Complexity and What Can Be Done About It
By Etienne Deffarges
Publisher: Routledge, Taylor & Francis (June 25, 2018)
Hardcover: 370 pages
Language: English
ISBN-10: 0815363346
ISBN-13: 978-0815363347
Who is Etienne Deffarges?
Etienne Deffarges has lived in San Francisco since 1985, and became a U.S. citizen in 1993. He discovered the Bay Area when studying for his MS in Civil Engineering at the University of California, Berkeley, upon graduating as an aeronautical engineer from the ISAE – Sup'Aero in Toulouse, France. After working as a general field engineer for Schlumberger in several South American countries, he earned an MBA from the Harvard Business School, graduating as a Baker Scholar.
Deffarges started a career in management consulting with Booz Allen Hamilton, eventually becoming a senior partner and head of the firm's global energy, chemicals, and pharmaceuticals practice. He was a senior advisor to several governments in Asia and South America. In 1999, Deffarges was recruited by Accenture to be a global managing partner, with leading responsibilities in energy and utilities. He was the company's first global market maker, responsible for large deals with clients, including one well in excess of $1 billion, and participated in the company's 2001 IPO on the NYSE.
In 2004, Deffarges became an entrepreneur and part of the founding team of Accretive Health (now R1 RCM), a health care IT start-up that had its own IPO in 2010, with an enterprise value of $1.2 billion.
Today, Deffarges holds a variety of board positions in aerospace, automotive, construction, energy, food, and health care.