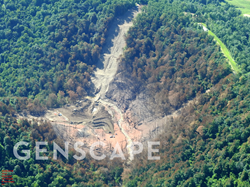 "We plan to continue looking for root cause clues," said Colette Breshears, Genscape Infrastructure Intelligence Analyst. "If we can identify the root cause, we hope to gauge potential pipeline risk factors that may have a long-term impact on natural gas transport in that region."
LOUISVILLE, Ky. (PRWEB) June 22, 2018
Last week, Genscape conducted a flyover of the Leach XPress, offering the first glimpse of the site since the June 7 explosion. On Friday, June 15, aerial crews captured several images of equipment and crews immersed in pipeline repairs at the Moundsville, West Virginia site. While the images do not offer insight into the cause of the explosion, which Trans-Canada remains tight-lipped on, they do show the level of repair work. The work does not appear extensive as the affected portion of pipeline is only 80-100 feet long. Crews rerouted eastern flows for the duration of the repair work, but western portions of the Leach XPress are tentatively back in service.
While Genscape sees minimal initial impacts to natural gas transport due to availability of rerouting options, this explosion is especially unique since the Leach XPress is an infant expressway, just brought online January 1, 2018. Most incidents like this historically happen as pipelines start to age. Some outlets speculate that line operators saw an issue during May maintenance, but Trans-Canada would most likely shut the line down if they saw any deficiencies. "We plan to continue looking for root cause clues," said Colette Breshears, Genscape Infrastructure Intelligence Analyst. "If we can identify the root cause, we hope to gauge potential pipeline risk factors that may have a long-term impact on natural gas transport in that region."
The Leach XPress, located in Marshall County, WV, adds 160 miles of natural gas and compression facilities in Southeast Ohio and the West Virginia Northern panhandle. The line adds 1.5 billion cubic feet (Bcf) of capacity flowing to Leach, KY, where gas then moves to the Rayne XPress for transport to the South and Gulf Coast. The Leach XPress is part of the Columbia Gas Transmission system, which operates over 12,000 miles of pipeline and 37 storage fields across four states.
About Genscape
Founded in 1999, Genscape is the leading global provider of near-real-time data and intelligence for commodity and energy markets, driven to improve market transparency and efficiency.
Today, Genscape operates the world's largest private network of in-the-field monitors, and added satellite reconnaissance, artificial intelligence, and maritime freight tracking to its data acquisition capabilities. Genscape delivers its unique brand of unsurpassed market intelligence across the commodity and energy spectrum including power, oil, natural gas, petrochemical and NGL, agriculture, biofuels