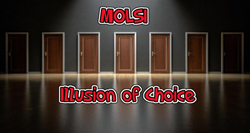 "The album is going to speak to people from all walks of life, and to Americans going through all of life's stages. Whether you're a student in high school or an executive in a boardroom, you're going to be able to relate to this album from a lyrical perspective
ORLANDO, Fla. (PRWEB) March 11, 2020
On June 22nd, 2018 MOLSI Media released the music concept album "Illusion of Choice"-the MOLSI label's 6th album release of 2018. The album presents the story of a prospective political candidate facing inner conflict as he grapples with the motivations and risks involved in running for political office. The album's nine songs explore the various themes and substantive issues to be brought to attention by the politician in his future campaign but the musical tracks also explore the hesitancy and fear faced by the potential candidate before he enters into the political spotlight.
Jack Molsi is the CEO of MOLSI Media and served as Executive Producer on "Illusion of Choice". Mr. Molsi stated that "the album raises cutting-edge policy proposals that may be the future of political campaigning. The issues include rigged securities markets, the illusion that is the bi-partisan divide, the harm caused by news outlets placing agenda before truth, the stark lack of privacy in our society, and how medical, educational, and religious institutions have lost sight of their noble priorities." Jack Molsi added "the album is fantastic in that it offers food for thought and room for common ground for people of all political stripes and yet it also presents politicians in a human light. Many have this idea of politicians being these powerful and persuasive figures but the album shows that they're vulnerable individuals who have stumbled onto a higher calling, oftentimes reluctantly."
"Illusion of Choice" is an alternative rock indie release. The album's nine songs range from pop ballads to very noisy and rhythmically complex anthems featuring claustrophobic vocal harmonies and heavily distorted synth and electric guitar. The sophistication of the album's subject matter does not interfere with the album's accessibility. Jack Molsi clarified by saying "the album is going to speak to people from all walks of life, and to Americans going through all of life's stages. Whether you're a student in high school or an executive in a boardroom, you're going to be able to relate to this album from a lyrical perspective. And even if you view rock music as blasphemy, the second to last song "Do Angels Fall in Love?" is going to pull at your heart strings no matter how emotionally cold the course of time has made you.
The album is available for a free listen on YouTube and can be found online by searching "MOLSI - Illusion of Choice". It will be soon be available for purchase. MOLSI Media always encourages the use of headphones when experiencing MOLSI content. Headphones will help listeners catch onto nuanced and subtle recording details and help them better connect to the story being told.