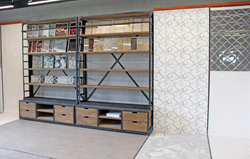 A facelift of the original space allows us to update showroom vignettes featuring core products consumers love and new products trends they desire
TORRINGTON, Conn. (PRWEB) June 24, 2018
Distributors of fine tile, natural stone and masonry products, O&G's Masonry Division and Earth Products Showcase reveals the latest update of the renovations in its Bridgeport showroom, the news was announced today by Anita Goerig, Director of Marketing. New vignette designs featuring the latest trends in masonry products are well underway in the spacious 25,500 S/F showroom.
A sneak peak of the showroom makeover emphasizes design aesthetics and material selections in an array of textures and colors that will inspire consumers. Once complete the new showroom will feature kitchen vignettes, bath vignettes, a glorious working fireplace surround, numerous floor to ceiling tile vignettes, multiple floor vignettes, product displays, and plenty of workspaces for clients, professionals, and staff to meet.
"Our first Earth Products Showcase opened in Bridgeport over twenty years ago with the specific purpose to display natural stone, brick, tile and paver products to inspire consumers with design ideas," remarked Kara Oneglia, Assistant Vice-President of O&G Industries. "A facelift of the original space allows us to update showroom vignettes featuring core products consumers love and new products trends they desire." The showroom remains open to the public during renovations and is scheduled for completion in October 2018. We invite you to stop in, browse our showroom, and be inspired.
About O&G Industries Masonry Division
Since its inception in 1923, O&G Industries, Inc. has grown to become one of the most diversified construction companies in the Northeast and one of the largest suppliers of masonry products and services in New England. Headquartered in Connecticut, the masonry division's facilities include:
o Seven Mason stores and stone yards,
o Six Earth Products Showcase showrooms,
o Fabrication and Distribution Center for custom stonework.
Sales professionals work with professionals and homeowners alike where the scope of the plans ranges from commercial to residential projects. Customers receive expert consultation from staff that guides clients through the broadest selection of earth-based material available to meet design specifications and budgets. Earth Products Showcases offer professionals and homeowners a place to view elegantly appointed vignettes from classic to contemporary in design. For more information about O&G Industries Masonry Division, call Anita Goerig at 203-881-5192 or navigate to O&G's website at https://mason.ogind.com