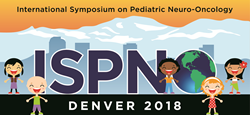 Only 4 percent of NCI's research budget is allocated to pediatric cancer research.
DENVER (PRWEB) June 25, 2018
The 18th International Symposium on Pediatric Neuro-Oncology – a unique forum that brings together 1,500 leading researchers, physicians, surgeons, nurses, and social workers to exchange information, results, and collaborate – is coming to Denver June 29-July 3. Activities will take place at the downtown Hyatt Regency Hotel.
This is the first time the symposium will be held in the U.S. since 2008. The Morgan Adams Foundation and Children's Hospital Colorado are key sponsors of this event.
"The fact that this international, highly regarded conference is being held in Denver speaks directly to the leading-edge research being conducted at Children's Hospital Colorado, research that would not have been possible without The Morgan Adams Foundation," said Nick Foreman, MD, associate chief of the Center for Cancer and Blood Disorders at Children's and ISPNO conference co-chair.
The meeting brings together oncologists, neurosurgeons, radiation oncologists, neurologists, nurses, researchers, neuropathologists, neuroradiologists, endocrinologists, psychologists, and social workers involved in research, diagnosis, treatment, rehabilitation, and overall care of children with central nervous system (CNS) tumors.
The meeting will include plenary and poster sessions, keynote talks, and roundtable discussions about the latest research and clinical care of pediatric CNS tumors. There will be 800 presentations made by nearly 600 professionals from around the world. Representing the largest cohort from one institution, 28 doctors, nurses, and researchers from Children's Colorado and the University of Colorado Anschutz Medical Campus will present their work across 12 plenary talks and 22 posters.
On June 29, the first day of the session will include a full-day Family Day at Children's Hospital Colorado on the Anschutz Medical Campus, sponsored by The Morgan Adams Foundation. This day is intended for families and patients battling brain tumors and will have sessions on a range of topics including research updates, education issues, nutrition and wellness, care giving, and creating a family's "new normal." In addition, there will be separate sessions for adults and young adults, as well as a special breakout session for grieving families.
"Every year, more than 15,000 families in the United States hear the devastating words – your child has cancer," said Joan Slaughter, co-founder and executive director of The Morgan Adams Foundation. "Nothing can prepare a family for that."
Since its inception in 2000, The Morgan Adams Foundation has funded more than 160 pediatric cancer research projects totaling nearly $5 million. Last September, in recognition of the pivotal role the foundation plays, the brain tumor research program at Children's Colorado was named the Morgan Adams Foundation Pediatric Brain Tumor Research Program.
Only 4 percent of the National Cancer Institute's research budget is allocated to research for all types of pediatric cancer research. "Almost all advances in pediatric cancer treatment have been funded by the private sector, through organizations like The Morgan Adams Foundation," Slaughter said.
For additional information about this event, go to http://ispno2018.com/.
Media Contacts:
Meg Periman
The Morgan Adams Foundation
303-601-4738
meg(at)morganadamsfoundation.org
https://twitter.com/morganadamsfdn
Kirby Lind
The Morgan Adams Foundation
303-349-9020
kirby(at)morganadamsfoundation.org