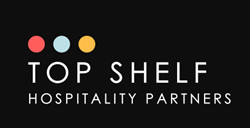 Topshelf Hospitality Partners features companies serving the restaurant and nightlife, travel and hospitality and retail and customer industries.
ST. LOUIS (PRWEB) June 25, 2018
StaffedUp, a web-based staffing platform designed for the service industry, announces today their inclusion in the launch of a preferred network of like-minded companies, Topshelf Hospitality Partners. The network consists of companies who are top service providers in the hospitality industry, serving a similar client demographic, with the goal of offering more value to their respective customers, and offering a one stop shop for businesses looking for opportunities to improve operations. Topshelf Hospitality Partners features companies serving the restaurant and nightlife, travel and hospitality and retail and customer industries.
StaffedUp finds themselves in excellent company with this new venture centered around industry professionals, as they were created and founded by restaurateurs who not only understand the hiring climate but wanted a more efficient software to use themselves. "We're very excited about the launch of Topshelf Hospitality Partners and the team of companies involved. Our collective goal is to support each other, and add value to our respective clients, while maximizing exposure. All of the companies within the network are passionate about working in this industry, and together we can offer products and services to try and make the lives of those who also work in this industry better," says Billy Giordano of StaffedUp.
There are currently 8 companies within the network working together to make hospitality great.
Hoperator - Hoperator helps hotels, travel and hospitality businesses around the world increase revenue and provide memorable service by combining the live chat, text messaging and marketing automation to personalize communication that converts and retains customers.
Ordello - Innovative custom websites for restaurants like yours featuring fully integrated online ordering services. Deliver a more convenient experience for you, your restaurant, and your customers.
Upshow - UPshow is a Social TV Platform that transforms the TVs at a business into customized marketing & entertainment screens built to generate revenue.
​Brigade POS ​- Brigade POS was developed by a team of experienced restaurateurs and software innovators who wanted to solve the core problems inherent with almost every POS system. ​
Staffedup - StaffedUp is web and social based hiring software that helps employers compete for great talent and pipeline their hiring process by leveraging their brand to drive great applicant traffic, 24/7/365.
Invelop​ - Invelop has been creating 3D Virtual Tours to showcase a business and its facilities to the world. From any internet connected device, potential clients can be immersed inside of a restaurant, hotel or any hospitality facility.
Nightlife - Nightlife is the app and social discovery platform for making going out easy. Users find curated and exclusive happy hours, specials, concerts, and events on our mobile apps and local social networks.
Zenreach – Zenreach is a game-changer for brick and mortar businesses. You'll get the tools you need to collect contacts faster and engage customers more effectively.
Services offered by TopShelf Hospitality Partners include in-business Wi-Fi and analytics, messaging and CRM, staffing, online ordering, mobile advertising, digital marketing and social media marketing. Topshelf Hospitality Partners is a great resource for new, current or expanding companies within the industry looking to streamline and optimize their business.
About StaffedUp: Created by hospitality professionals who understand hospitality hiring. StaffedUp is a simplified recruiting software built to help hospitality employers attract top candidates while accelerating the hiring process for both sides. Learn more about their customizable hiring platform at https://www.staffedup.com to network talent efficiently and effectively.
About Topshelf Hospitality Partners: From online ordering to live chat and messaging, mobile apps to hyper-local marketing platforms and 3D-enabled interactive versions of your business, Top Shelf services only the best. Visit https://topshelfpartners.com/ to learn more.