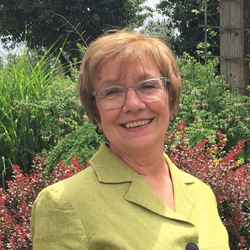 DES MOINES, Wash. (PRWEB) June 24, 2018
To fill the new position of Senior Engagement Program Manager, Wesley Des Moines has chosen Kathleen Burrows to manage the Des Moines Normandy Park Senior Activity Center.
As the program manager, Burrows is responsible for planning, implementing, managing and evaluating senior services programs, including recreation, social, continuing education, health, human services and nutrition programs. She is also responsible for creating and managing the center's budget; evaluating and making repair recommendations for the facility; obtaining sources of funding and grants as appropriate; and coordinating personnel, volunteers and special events.
Burrows, a former program and project manager, has worked for non-profit organizations, schools, international programs and the Washington State Bar Association. She's run seminars for attorneys and worked with over 300 volunteer speakers at various venues.
When the longtime director and manager of the senior center announced their retirements, the City of Des Moines looked at options for management of the center. The City Council decided to forgo a recruitment process and chose to work with Wesley Des Moines retirement community to manage the center.
"The city still owns the senior center, and all senior services activities will remain at the center," said Wesley President and CEO Kevin Anderson. "Wesley chose Kathy to manage the great programs that already exist at the center and expand upon those programs."
Burrows has worked at Wesley Des Moines for eight months as the coordinator for Wesley U, the campus's continuing education program created with Highline College and the senior center. In those eight months, Burrows has worked with the Wesley U board to broaden the classes offered.
"I've worked with adults all my life, but Wesley was my first position working with seniors," said Burrows. "I really enjoyed working with the Wesley U board to bring more of the types of classes they and their friends want to have."
Burrows plans to include that collaborative spirit in program management at the center.
"The previous management built some wonderful relationships, and I plan to look for even more community partnerships," said Burrows. "I'll incorporate the expertise of the staff at the center and the people in the greater Des Moines community to bring the kind of invigorating, thought-provoking and essential programs the Des Moines senior community wants.
"Wesley gave me a model of how to efficiently run programs and systems," continued Burrows. "It showed me how staff and residents can work together in a respectful and cooperative way. That would be my ideal for the senior center."
The two-year agreement for the pilot project includes oversight by City Manager Michael Mathias, Anderson and Wesley Des Moines Executive Director Alex Candalla. Burrows was hired and paid for by Wesley, but the city will reimburse the organization. The agreement between the city and Wesley can be reviewed, re-evaluated or terminated by either party after 90 days or extended for an additional two years.
"I commend the city for knowing their area of expertise and Wesley's," said Anderson. "It took courage to look at the broad picture of what is best for the senior center, and Wesley has many resources available, like Kathy, to enhance the center's programs."
Wesley has been a part of the Des Moines community for nearly 75 years. Their $175 million redevelopment of the south side of their first campus marked a continued commitment and investment in the city. The organization is a stakeholder in the Metro Des Moines Community Shuttle project between Angle Lake Station and the Des Moines Marina District. Wesley helped with the South 216th Street roadway improvements, donated money for other intersection improvements and sold the land to the city on which Des Moines City Hall sits.
The organization has also invested in Des Moines through its intergenerational programs. Wesley Des Moines worked with Highline Public Schools to create Highline Montessori at Wesley. They've also designed a Students-in-Residence volunteer program with Highline College.
Established in 1944, Wesley Homes is a not-for-profit organization that offers a continuum of care for older adults. Wesley operates three retirement communities and a home health agency. Wesley Des Moines and Wesley Lea Hill in Auburn provide a network of services, including independent living, assisted living and housing with services residences; skilled nursing and rehabilitation; and memory care. Wesley Bradley Park in Puyallup is currently under construction. Wesley Health & Home Care provides Medicare- Medicaid-certified services, in-home care and hospice services to clients in King and Pierce counties.