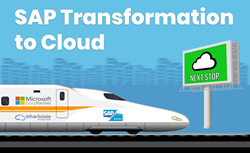 Digital transformation is all about enterprise agility and speed!
PRINCETON, N.J. (PRWEB) July 16, 2018
Wharfedale Technologies Inc. (WFT Cloud) expands its offerings of SAP® solutions and provides enterprise customers with IT cloud infrastructure to drive more business innovations enhanced by Microsoft Azure.
Enterprises are increasingly moving business-critical systems to the cloud to benefit from the digital transformation, moving to new business models that allow organizations to make new products, deliver more efficient services and effectively create better customer relationships and empower their employees.
As a strategic partner with Microsoft Azure and a catalyst in this trend, Wharfedale Technologies deploys the SAP Cloud portfolio to help ensure the best cloud experience. Using proven experience in cloud technologies, Wharfedale conducts smooth migrations to Microsoft Azure for its customers.
"We're working closely with our Center of Excellence to create new solutions that allow organizations to run SAP S/4HANA® on Microsoft Azure with all new capabilities," said Ganesh Radhakrishnan, CEO of Wharfedale Technologies. "The world's most significant businesses trust Microsoft. Because of this, we can help companies achieve their business objectives."
"Our customers are running one of the largest SAP HANA® business warehouses on Microsoft Azure. It gives them the reliability, performance and agility they need for their mission-critical financial reporting systems," said Praveen Gadura, Senior Vice President of Wharfedale. "Wharfedale has always helped clients take advantage of a powerful cloud foundation from Microsoft Azure and SAP to transform businesses at speed and scale in the cloud."
By running SAP solutions on Microsoft Azure, customers get triple benefits: application and product expertise from SAP, cloud technologies from Microsoft Azure, and the wide variety of Wharfedale's cloud services.
According to research firm Gartner Inc., 66% of all business leaders believe that their companies must pick up the pace of digitalization to remain competitive.
Wharfedale's primary objectives are to help customers accelerate their digital agenda and to advance their enterprise technical architecture while providing the best customer services to clients around the world.