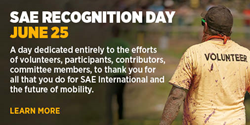 SAE International's volunteer base encompasses more than 60,000 talented, innovative, and engaging individuals from all around the world.
WARRENDALE, Pa. (PRWEB) June 25, 2018
SAE International declares Monday, June 25, as the inaugural SAE Recognition Day; a day dedicated to honoring and thanking those who have dedicated their time and talents to supporting the organization's mission to advance mobility knowledge solutions for all of humanity.
SAE International's volunteer base encompasses more than 60,000 talented, innovative, and engaging individuals from all around the world. These individuals serve in the roles of technical standards committee members setting expectations for safety, reliability, and quality throughout the mobility industry; technical events participants and organizers of nearly 30 technical events covering all aspects of technology related to design, manufacturing, propulsion, and safety; Pre-Professional volunteers working with the Collegiate Design Series and A World In Motion programs, enabling students of all ages to understand and love the world of science, technology, engineering, and math (STEM), inside and outside of the classroom; and many, many others who give their support to helping SAE International succeed.
SAE Propel
As part of this day of recognition, SAE International announces the re-launch of its volunteer platform, SAE Propel.
Propelling the mobility industry forward means making a commitment to inspire momentum, fuel change and motivate the next generation of professionals to embark on a path to success. SAE Propel unites passionate engineers with opportunities to effect change, role model excellence and inspire today's young minds to become tomorrow's change makers.
As the new engagement portal for mobility engineers looking to make a difference in their industry, SAE Propel is the go-to resource for up-to-the-minute opportunities to volunteer or participate in a variety of roles that reflect passion in profession. It's where information and interests will be matched with areas and individuals in need of experience and expertise. Where driven participants like will be paired with open positions. And where it is possible to connect with other inspirational professionals striving to propel the industry to new heights.
To learn more about SAE Recognition Day, visit sae.org/. To get engaged via SAE Propel, visit connection.sae.org/SAEpropel.
SAE International is a global association committed to being the ultimate knowledge source for the engineering profession. By uniting over 127,000 engineers and technical experts, we drive knowledge and expertise across a broad spectrum of industries. We act on two priorities: encouraging a lifetime of learning for mobility engineering professionals and setting the standards for industry engineering. We strive for a better world through the work of our philanthropic SAE Foundation, including programs like A World in Motion® and the Collegiate Design Series™.