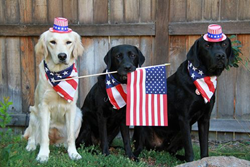 At this time of the year, our team gets very enthusiastic about our patriotic celebrations, especially Independence Day
ATLANTA (PRWEB) June 25, 2018
The Flag Company, Inc., is getting ready for the Independence Day Holiday, respectfully celebrating the United States of America.
Independence Day is regarded as the birthday of the United States as a free and independent nation. Most Americans simply call it the "Fourth of July," on which date it always falls.
It is a day of picnics and patriotic parades, a night of concerts and fireworks. The flying of the American flag -- which also occurs on Memorial Day and other holidays -- is widespread.
"At this time of the year, our team gets very enthusiastic about our patriotic celebrations, especially Independence Day," said Mike Lawrence, Vice President of Marketing. "The pride that this feeling gives us when conducting this business is great, and shared by the everyone in the team."
It's shared with everyone at The Flag Company, Inc., and also extended to their families and close ones, including their furry friends that also join in the celebrations.
Mr. Lawrence also adds that "more so than just about any other product, our flags and flagpoles are a respectful representative of our country everywhere."
The Flag Company, Inc. began in 1989 as the result of creating a flag for a real estate agent to attract attention to a listing. From those humble beginnings, the business flourished to include realty franchises, oil companies, hotel and restaurant chains as well as major civic and sports venue installations.