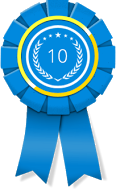 LOS ANGELES (PRWEB) June 26, 2018
10 Best Design has recently announced the June 2018 winners of its most recent award for Top Los Angeles Website Design Firm. The top three winners are SPINX Digital, EIGHT25MEDIA, and Blue Fountain Media.
The businesses that are being recognized as best web design firms have demonstrated excellence in multiple categories. These include web development, graphic design, and customer satisfaction. Each award-winning firm was selected from many candidates, and these firms can be counted upon to provide superior web design services.
SPINX Digital is among the most recent winners on the roster of top Los Angeles website design firms. This firm has extensive experience in digital marketing, website design and development, design for mobile devices, and enterprise CMS platforms. SPINX Digital is willing to tackle projects that other firms consider impossible. The agency works with each client to create an online platform that accurately conveys brand messaging. Each professional at the firm has industry experience in creating successful solutions.
EIGHT25MEDIA also claims an award for excellence. Recognized as one of the finest web design firms in Los Angeles, EIGHT25MEDIA has completed more than 500 web development projects. The focus of the firm is to help its clients improve both web traffic and revenues. This firm uses multiple strategies, which include design, social media integration, and mobile app development. EIGHT25MEDIA is a certified Google Partner.
Rounding out the list of award-winners in the category of best web design agency is Blue Fountain Media. This agency also maintains offices in New York City and other locations in order to serve clients on both coasts. The firm has helped its clients generate over $3 billion in revenue with engaging web design. Industries served by this agency include real estate, government, and automotive. Blue Fountain Media specializes in e-commerce platforms. The firm uses talented professionals in a variety of fields to accomplish its work.
10 Best Design is proud to offer these new monthly awards. The selection process involves evaluating web design firms on a number of important factors. To receive an award, a firm must achieve the highest ratings in all categories. 10 Best Design also looks for consistency of excellence over time when considering its honorees.
For more information about this month's winners, please visit http://www.10bestdesign.com.