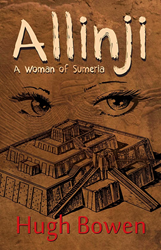 "Ancient history becomes modern history as the puzzle pieces of a Middle Eastern nation come together in an intriguing novel." - Robert Fletcher, CEO of Strategic Book Publishing and Rights Agency
DENVER (PRWEB) June 26, 2018
In this inspiring story, travel back in time to the ancient land of Sumeria in the Middle East, now southern Iraq, and meet a dauntless woman, Allinji. She grew up and lived in its capital city, Ur.
Sumeria has been called "the Cradle of Civilization," and its people made tremendous advances in architecture, literature, farming, and the sciences, while still revering their numerous gods. Sumerians mounted expeditions far and wide to extend their trade and frontiers, and they established new forms of government.
The story of "Allinji: A Woman of Sumeria" relates how a woman takes a leading role in war and peace while promoting the position of women in her brave new world.
Watch the video book trailer at: https://youtu.be/wmlApfqQIIE
About the Author: Dr. Hugh Bowen, a retired psychologist, put together this exciting story based on his mother's accounts of her time in Iraq in the 1930s. She met acclaimed author Agatha Christie and joined her at the excavations of the ancient Sumerian city of Ur. Dr. Bowen has visited the sites and has long studied Sumerian culture. He notes the Sumerians were very modern in building roads and putting up hostels for travelers, yet unlike in thinking their gods determined everything they did. The author grew up in Wales and England, and now resides in Denver, Colorado.
"Ancient history becomes modern history as the puzzle pieces of a Middle Eastern nation come together in an intriguing novel. We are thrilled to be the publisher," said Robert Fletcher, CEO of Strategic Book Publishing and Rights Agency.
ALLINJI: A WOMAN OF SUMERIA (ISBN: 978-1-948260-59-6) is now available for $16.95 and can be ordered through the publisher's website:
http://sbprabooks.com/HughBowen/ or at Amazon.com or Barnesandnoble.com.
WHOLESALERS: This book is distributed by Ingram Books and other wholesale distributors. Contact your representative with the ISBN for purchase. Wholesale purchase for retailers, universities, libraries, and other organizations is also available through the publisher; please email bookorder@sbpra.net.