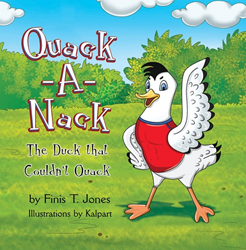 "This delightful children's story points out the differences between us can always be conquered by love." - Robert Fletcher, CEO of Strategic Book Publishing and Rights Agency
TOMBALL, Texas (PRWEB) June 27, 2018
"Quack-A-Nack: The Duck that Couldn't Quack" is one lucky duck! Accidentally raised by Mother Hen instead of Mother Duck, the duck later discovers he has two mothers!
In the excitement leading up to the duck Olympic swimming tryouts, Mother Duck accidentally lays her egg named Quack-A-Nack in Mother Hen's nest. When Mother Hen finds the egg and it hatches, she knows this little guy is very special.
Raised by a chicken instead of a duck, Quack-A-Nack never learned to quack. When he finally meets his "real" mother, he says he's so lucky to have two mothers who love him that he will forever love them both, uniting the chicken and duck families forever.
About the Author: Finis T. Jones, 1929-2017, was a lifelong storyteller. Born on a farm in Honey Grove, Texas, he loved writing and sharing his stories until his death in Tomball, Texas. Said his son, Jerry Jones, "The joyful imagination in the children's stories my dad so enjoyed writing will surely live on in the hearts of so many for years to come."
Watch the video book trailer at: https://youtu.be/ZCKotMRc-RM
"This delightful children's story points out the differences between us can always be conquered by love. We are intensely pleased to announce its release," said Robert Fletcher, CEO of Strategic Book Publishing and Rights Agency.
QUACK-A-NACK: THE DUCK THAT COULDN'T QUACK (ISBN: 978-1-946539-39-7) is now available for $13.95 and can be ordered through the publisher's website:
http://sbprabooks.com/FinisTJones or at Amazon.com or Barnesandnoble.com.
WHOLESALERS: This book is distributed by Ingram Books and other wholesale distributors. Contact your representative with the ISBN for purchase. Wholesale purchase for retailers, universities, libraries, and other organizations is also available through the publisher; please email bookorder@sbpra.net.