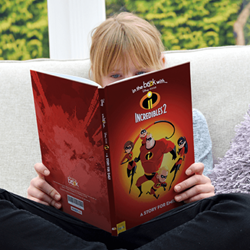 "Boys and girls need to see themselves reflected in what they read, and most of the time kids crave for action packed adventures that will draw and captivate their attention," says Kim Delgado spokesperson for KD Novelties
MONROE, N.Y. (PRWEB) June 26, 2018
Dust off that super suit! KD Novelties announces the Incredibles 2 personalized book for kids starring the Incredibles 2 in time for the movie release in theatres now. Children star alongside their favorite Incredibles characters. They tackle new challenges with the Parr family but learn that no matter what comes their way, they will always be there for each other.
"Boys and girls need to see themselves reflected in what they read, and most of the time kids crave for action packed adventures that will draw and captivate their attention," says Kim Delgado spokesperson for KD Novelties. KD Novelties' Incredibles 2 personalized book provides just that experience.
The Incredibles 2 personalized children's book teaches children that they can be super heroes in real life and to fear nothing or no one, thus enhancing their self-esteem and self-confidence. Incredibles 2 is available in softcover or hardcover and has 36 pages full of colorful illustrations.
"We are thrilled to announce this new personalized book and add it to our robust line of personalized Disney books for kids," says Kim. This book makes a personalized keepsake gift to celebrate the little or big super hero.
When ordering the book on KD Novelties, customers simply fill out the personalized information they would want in the book, checkout and that's it. The process is seamless.
Personalized children's books build self-esteem and self-image in children while promoting reading in a unique way. KD Novelties advises parents and guardians to introduce children to the love of personalized reading to promote literacy and eradicate illiteracy.
KD Novelties has been in business for over 15 years and has been promoting literacy to kids of all ages. They are family owned and operated and have an A+ ranking from the Better Business Bureau. For further information about personalized books, music, and DVDs, and the tremendous benefits they hold for children's literacy, please contact them or visit the KD Novelties website.