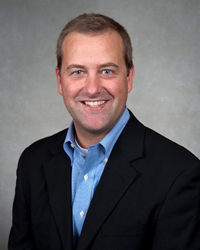 "We are excited to have the opportunity to take our revolutionary financial services vault to the next level of industry relevance and adoption."
ST. LOUIS (PRWEB) June 28, 2018
FinLocker (http://www.FinLocker.com), a financial data and analytics company, today announced the addition of Eric Bloomquist to their senior leadership team. Bloomquist has over two decades of innovative product management experience and brings a wealth of industry exposure that will help to extend the breadth of innovation for the sophisticated FinLocker solution.
Further rounding out the scope of experience held by the FinLocker leadership team, Bloomquist has served in a senior leadership capacity at Equifax, Citigroup and Fannie Mae. His roles have encompassed product strategy, innovation, marketing and growth across multiple financial services product lines. Additionally, Bloomquist has been instrumental in securing patents for products he developed and launched to address key industry issues in the areas of loan customization and incentive administration.
Bloomquist began his career working with a Bank of America predecessor, NationsBank. Using this exposure in financial services, he took on numerous product management challenges at Fannie Mae as the Senior Product Manager for eBusiness and Single-Family Business. As the SVP for product management and innovation at CitiMortgage, Bloomquist managed their product line, including client management and assimilation of regulatory changes. At Equifax, he focused on strategy for their verification services business. Each of these positions furthered Bloomquist's ability to challenge traditional product solutions and fostered his inimitable approach to product innovation and strategy. "Eric Bloomquist is uniquely qualified to assist FinLocker leadership in continuing product expansion," said Peter Esparrago, FinLocker CEO. "We are excited to have the opportunity to take our revolutionary financial services vault to the next level of industry relevance and adoption, with Eric's expertise and connections."
About FinLocker
FinLocker is a secure financial data and analytics platform that eases the pains of the mortgage process for both lenders and consumers. It significantly reduces costs, while also generating highly qualified leads for the lenders. FinLocker enables access to consumer financial data electronically and applies analytics to verify and analyze employment, income, assets, credit, taxes and other information. FinLocker provides the consumer a re-usable financial locker to manage their financial life, and can be utilized for mortgages, auto loans, student loans, small business loans, and other consumer transactions. The company is headquartered in St. Louis, Missouri. For more information, visit http://www.FinLocker.com.