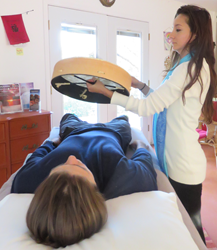 Enhance Your Impact
Sedona, AZ (PRWEB) June 24, 2018
The Shamangelic Healing Tools and Modalities, Level II, eight-day training program is being offered in Sedona, Arizona to those called to be immersed in an environment of hands-on learning. There are currently less than 8 spaces left as this is the last offering of the program. Taking place October 11-19, 2018, this healers training intensive includes access to the Empowerment and Awakening, Level I, Weekend as well.
"This course is perfect if you are interested in the Healing Arts or if you are a practitioner looking to expand your service offerings and enhance your impact," says Anahata, founder of the Shamangelic Healing Center. Attendees are taught to discover natural healing talents and how to incorporate shamanic tools to assist in personal transformation. "As people face greater life challenges, addictions and deep traumas, healers need to offer an arsenal of diverse effective resources to meet these growing demands," adds the Shamanic healer.
In this fun, supportive environment, interactive learning and healing occurs simultaneously. Empowering each person in attendance is the objective. The concepts shared in Level I provide the essential fundamentals, while Level II builds on that information for a more in-depth practice with shamanic tools and ways to utilize them.
The Healing Tools and Modalities, Level II, Healers Intensive includes a workbook and four days of practice with emotional clearing, chakra and energy balancing, healing touch therapy, Shamanic release, vibrational sound therapy, guided visualizations, and how to safely incorporate essential oils. Level I, Empowerment and Awakening, is a pre-requisite for the course and is included in the 8-day training. Those who have already completed Level I earlier this year or in a prior year, may register for the Healing Tools and Modalities classes separately.
The Empowerment and Awakening Weekend course included consists of a classroom-style learning environment at the Best Western Plus Arroyo Roble and Creekside Villas. It takes place from October 11-14, 2018, in Uptown Sedona. Throughout the Weekend Intensive, attendees will learn how to identify energy blocks and imbalances, interviewing, counseling, and spiritual connection techniques, various hands-on healing modalities, how to support the process of dying and grieving, as well as various formats for presenting healing services and content. Some of these are offered as online teaching modules for those who are unable to attend in person.
In an intimate setting, Anahata, Shamanic Healer and Soul Guide, will facilitate a deep inward journey to share concepts of Shamanic teachings, Shamanic Breathwork, and how to deeply connect to nature. Both courses are filled with techniques that will be practiced enough to fully prepare attendees to integrate them into their personal lives or business.
The Healing Tools and Modalities Healers Training was inspired from Anahata's desire to share her techniques from two decades of self-healing, extensive training and client success stories. It was developed as a way empower others interested in expanding their knowledge base and broaden the span of modalities they can offer their clients.
Anahata Ananda has trained extensively with gifted shamans, energy healers and spiritual teachers from around the world to artfully integrate the fields of spirituality, energy, self-empowerment and shamanic teachings. Her client-base spans the globe with individuals from all walks of life who are seeking to heal and awaken to their fullest potential.
For those unable to attend the weekend intensive, Anahata offers a variety of Shamangelic Healing services year-round, including private sessions, sacred land journeys and training courses that incorporate Shamanic teachings and other energy healing modalities. She also offers Tailored Retreats for individuals, couples and small groups that can include a combination of private healing sessions, sacred land journeys and other offerings based on various needs and areas of interest.
Shamangelic Healing is a premier center for Shamanic healing and spiritual awakening in Sedona. It is nestled beneath Thunder Mountain with breathtaking views and within walking distance to a medicine wheel and restorative vortexes, making it the perfect setting for personal transformation and expansion.
For detailed descriptions and a calendar of all training courses and spiritual awakening services offered by Anahata visit http://www.shamangelichealing.com/
¬¬