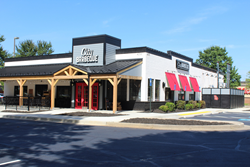 . "Like all City Barbeque restaurants, the Johns Creek joint will smoke all meats on-site and will serve the same award-winning barbeque, homemade sides, and indulgent desserts that guests have come to know and crave," said Atlanta Market Leader Bryson Brewer
(PRWEB) June 26, 2018
City Barbeque (citybbq.com) will open its second location in the Atlanta area in Johns Creek at 4210 Johns Creek Parkway (next to Lowe's). Offering award- winning, competition-quality barbeque, City Barbeque will celebrate the opening by giving away food and giving back to the local community to six different local charities and non-profits during the week.
Introducing Johns Creek and surrounding areas of Alpharetta, Cumming, and Milton to authentic craft barbeque, City Barbeque will open at 10:30 a.m. on Monday, June 25, and the first 50 guests will receive a mystery gift card valued at $5 to $250. The City Barbeque joint has also partnered with the following local charities and each organization will receive 25 percent of that day's sales when guests mention that organization when ordering:
June 25: Johns Creek Chamber Ribbon Cutting at 10 a.m.
June 26: Carrington Academy
June 27: Cumming-Forsyth Chamber Ribbon Cutting at 10 a.m.
June 28: Johns Creek Symphony Orchestra
June 29: Newtown Recreation
June 30: The Variety Charity
From 10:30 a.m. to 10 p.m. on Saturday, June 30, City Barbeque will host a Grand Opening Celebration, a day of activities with giveaways, games, prizes, live music, and family fun. Dignitaries will be on hand at 10 a.m. to do the official "Rib Bone" cutting, followed by a rib-eating contest between local fire fighters and police, face painting, crafts and activities for kids, and more. Plus, 10 percent of that entire day's sales will benefit Variety of Georgia.
The City Barbeque menu features an assortment of perfectly smoked meats, including beef brisket, pulled pork, turkey breast, smoked chicken, and smoked sausage, served with the choice of eight different sauces. The menu also features popular sandwiches such as the "More Cowbell," named one of the Best Sandwiches in America by Restaurant Hospitality magazine. Scratch-made sides like sweet vinegar slaw, corn pudding, and potato salad are made in-house every day, along with homemade favorites such as creamy mac & cheese, hand-dipped hush puppies, and baked beans with brisket. Fresh salads and homemade desserts round out the regular menu.
The restaurant also offers rotating seasonal menu items, including smoked salmon and fried catfish during Lent and whole smoked turkeys and hams available for pre-order at Thanksgiving, Christmas, and Easter. The current seasonal menu offers Brisket Tacos, Cukes n' Onions, and Citrus Pecan Slaw. City Barbeque is available for dine-in or take out and provides award-winning catering for weddings, graduations, office parties, reunions, and holiday dinners. The menu also includes craft sodas and beer.
"We are very excited to expand City Barbeque in Johns Creek, Decatur, and throughout the Atlanta area," said Atlanta Market Leader Bryson Brewer. "Like all City Barbeque restaurants, the Johns Creek joint will smoke all meats on-site and will serve the same award-winning barbeque, homemade sides, and indulgent desserts that guests have come to know and crave."
The Johns Creek location is almost 5k square feet and will seat 88 guests inside and up to 30 guests on the patio. There is also a meeting/party room with AV presentation capability that can host nearly 50 people for those wishing to reserve a private space.
City Barbeque has been winning awards for its smoked meats since its founding in 1999: its brisket was named American Royal Invitational World Champion Brisket by the Kansas City Barbeque Society, and the restaurant's smoked turkey has been recognized by the National Turkey Foundation. City Barbeque has also been recognized as one of the best barbeque spots in America by Men's Journal and named by Business Insider as having some of the nation's best barbeque. Additionally, the brand has picked up countless local awards in the cities it resides.
About City Barbeque
At City Barbeque, folks wake up early to make the city's best barbeque: every day, at every restaurant, teammates slow-smoke award-winning barbeque and craft homemade sides and desserts. City Barbeque also caters incredible events, providing personalized, friendly, and affordable service for events large or small, formal or laid-back. The company is devoted to supporting its teammates and the communities it serves and prioritizes giving back to local charities and non-profits.
City Barbeque teammates are dedicated to providing competition-quality barbeque and genuine
backyard hospitality; to improving themselves and their processes a little every day; and to staying true
to their purpose: to serve and create happiness. With the addition of Johns Creek, City Barbeque
now has 38 locations in six states. For more information, visit City Barbeque at citybbq.com,
Facebook, Instagram, or Twitter.
Atlanta Media Kit with photos from City Barbeque: https://citybbq.app.box.com/s/yaf8x1fwh4qycrkbuds448nxwb7djqht/folder/49566861939 [https://citybbq.box.com/s/yaf8x1fwh4qycrkbuds448nxwb7djqht