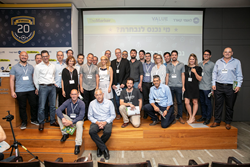 Coaching teams of some of the leading clubs in the world, including Barcelona, Bayern Munich, Premiere league clubs, and many more, are using our tech to develop their players to perform at even higher levels: Alon Werber, Pixellot CEO
TEL AVIV, Israel (PRWEB) July 10, 2018
The Marker, Israel's leading business publication, has named Pixellot one of Israel's Top 20 Startups in its inaugural annual list of startups.
Pixellot is the global leader in automated sports production technology delivering a comprehensive TV-like experience from live viewing to highlight reels. The system is easily installed in athletic facilities around the world, from the highest levels of professional sports to the lower leagues, as well as niche sports that were previously underrepresented in terms of availability, especially on the women's, amateur, and semi-professional levels. The system is specially tuned for more than 10 types of sports including soccer, football, basketball, hockey and volleyball.
The automated production technology also powers the Pixellot video coaching system, which is deployed by top clubs in Spain, Germany, England, and China to boost player and team performance.
The tech generates high-quality panoramic footage of the playing field and follows the action on the ground, simulating a virtual camera operator using computer-vision AI algorithms. The footage is automatically streamed via Pixellot's cloud to fans, family, coaches, and scouts on all platforms.
To augment the video and create an enriched viewing experience Pixellot's feed comes with a myriad of production modules, including game clock, scoreboards, high-end graphics, automatic highlights, editing tools, and a play-by-play commentator.
The prestigious recognition was awarded by a committee of journalists and columnists from The Marker, a Haaretz-group owned business magazine.
"We are honored to be recognized by The Marker as one of Israel's Top 20 Startups," says Alon Werber, CEO of Pixellot. "This is a testament to the hard work and commitment of our employees around the world. We're all passionate about sports and know that you can only win when your team works together and supports each other.
"We're proud that our solution allows millions to watch their families, local clubs, and other athletes in real-time, on demand or via our AI-generated highlight reels. At the same time, we are also proud that coaching teams of some of the leading clubs in the world, including Barcelona, Bayern Munich, Premiere league clubs, and many more, are using our tech to develop their players to perform at even higher levels."
More than 2,500 Pixellot systems were sold worldwide, broadcasting more than 17,000 hours of sports monthly in countries like the United States, Canada, China, Germany, Spain, Austria, Netherlands, United Kingdom, Japan, and Mexico.
Most recently, Pixellot announced that the Mexican Soccer Federation has deployed its solution in every Liga MX soccer stadium in Mexico to produce all league games for video coaching.
About Pixellot
Pixellot offers automated sports production solutions that provide affordable alternatives to traditional video capture, production and distribution systems for professional and semi-professional sport events. Founded in 2013, Pixellot's patented technology solution streamlines production workflow by deploying an unmanned multi-camera system in a fixed location, with additional angles as required, to cover the entire field, offering a stitched panoramic image. Advanced algorithms enable automatic coverage of the flow of play and highlight generation. Pixellot systems are deployed by broadcasters, production companies, clubs, federations, sports portals and coaching solution providers around the globe. For more information: http://www.pixellot.tv