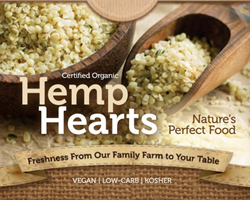 "Nature's Perfect Food"
MINNEAPOLIS (PRWEB) June 25, 2018
The consensus between LHi Lab and its Canadian partner is that the premiere event to unveil their product is the 2018 United Fresh Show in Chicago, June 25-27. LHi Lab recently inked a deal with a Canadian multi-generational family operated farm to provide multi-channel marketing of their transitional and organic hulled hemp hearts in the United States. The farm has been successfully growing hemp hearts and supplying Canadian markets for a number of years and are looking forward to bringing their product into the U.S. market.
Most of the crops this coming year will be transitional or fully organic and certified by Primus GFS. The farm's facilities are HACCP compliant, OU Kosher certified, as well as gluten free. The product can be supplied in retail packages or in bulk options.
Jason Spafford, a partner at LHi Lab stated, "We're excited to bring this farm's product to the U.S. market and connect the buyer directly with such a successful grower and packager. As the use of hemp hearts grows in the U.S. as a fantastic plant-based protein, we see health conscious consumers becoming more enthused about using this natural 'Super Food.'"
While the hemp foods market continues to grow in the U.S., established Canadian farms with certified organic and transitional product are ready to add support to the market. Canadian farms within 1 day of shipping to the Chicago and Greater Midwest market offer a win-win scenario for the grower and buyer.
"We look forward to introducing buyers directly to the farmers and stepping out of the middle to let the farm and buyer begin to develop a relationship that can benefit both parties," said Spafford.
For more information about the organic hemp products to be introduced at United Fresh feel free to contact Jason Spafford directly at Spafford(at)LHiLab.com
About LHi Lab
LHi Lab can be reached via http://www.LHiLab.com for Marketing Consultation, video content creation and custom apps creation within the transportation industry and beyond. LHi Lab has a history of partnering on innovative projects.