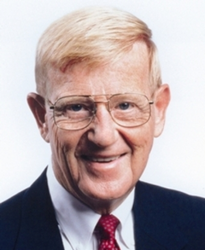 CHICAGO (PRWEB) July 09, 2018
Becker's Healthcare is pleased to welcome Lou Holtz as a celebrity keynote for the Becker's ASC 25th Annual Meeting: The Business and Operations of ASCs, Oct. 18-20 at the Swissôtel Chicago.
Mr. Holtz is one of the most renowned coaches in sports history, known for transforming the struggling Notre Dame football program into a force to be reckoned with. He guided six different programs to bowl games — the only coach in the history of college football ever to do so. He is also the only coach to help four different programs secure rankings in the final top 20 poll.
From 2004 to 2015, Mr. Holtz served as an analyst for ESPN's football coverage. He has also authored the books Winning Every Day: The Game Plan for Success; The Fighting Spirit: A Championship Season at Notre Dame; and Wins, Losses, and Lessons: An Autobiography.
In 2015, Mr. Holtz began hosting "Holtz in One" on SiriusXM Radio, sharing the latest golf news and events on the PGA Tour. Mr. Holtz discusses college football on SiriusXM's "The Playbook" and the "SiriusXM College Football Tailgate Show."
Mr. Holtz will speak at Becker's conference Friday, Oct. 19. He joins more than 175 speakers that make up an agenda packed with 100-plus sessions on key topics such as how to improve your ASC and its bottom line, how to manage challenging clinical, business and financial issues, and more.
To hear Lou Holtz and other fascinating speakers, join Becker's Healthcare at the Becker's ASC 25th Annual Meeting: The Business and Operations of ASCs Oct. 18-20 by registering here: https://www.regonline.com/registration/Checkin.aspx?EventID=2152671 or contact Jess Cole by email at jcole@beckershealthcare.com or by phone at 312-929-3675.
For the complete conference brochure, click here: https://www.beckersasc.com/annual-ambulatory-surgery-centers-conference/.
About Becker's ASC Review
Becker's ASC Review offers general business, legal and clinical guidance on topics relevant to outpatient surgery, including joint ventures, development and expansion, and regulatory and compliance issues, as well as analysis and insight for specialties including orthopedics and spine, gastroenterology, neurosurgery, ophthalmology, ENT, and anesthesiology. Each of the nine annual issues of the publication reaches a qualified audience of more than 25,000 key ASC leaders, including surgeons, medical directors, directors of surgery and ASC administrators. Every ASC in the nation receives Becker's ASC Review.