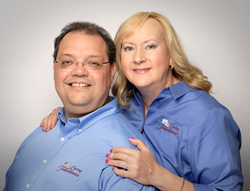 When we found Caring Transitions, we realized it would be a perfect fit for us and for this community. We're looking forward to helping people through what is often one of the most challenging times in their lives. - Steve Acosta
CARY, N.C. (PRWEB) June 25, 2018
Steve and Tamara Acosta are pleased to announce the launch of their new full-service relocation and transitions company, Caring Transitions of Cary.
Caring Transitions' specially-trained team can handle organizing, packing, de-cluttering, moving, resettling, in-person and online estate sales, liquidations, and preparing homes for market. Caring Transitions specializes in managing senior relocations, but the services are also perfect for busy families and individuals in need of assistance. Caring Transitions of Cary serves Cary and the Western Inner Beltline of Raleigh, including the neighborhoods of Five Points, Pullen Park, Prestonwood and the surrounding areas.
Caring Transitions' services are perfect for managing the many aspects of a senior move or for assisting with the process of downsizing to provide a safer living situation as well as for busy families and people clearing out the home of a loved one who has moved into assisted care or has passed. All of Caring Transitions' services are customizable, so clients only pay for the services they need – whether that means managing the entire move and estate-clearing or just getting someone resettled into their new place.
Tamara and Steve both understand the challenges of relocating loved ones and then clearing a house when the time comes. Tamara and her three sisters moved their parents into assisted living and then, a year later when they passed away, the family had to clear out the apartment and the house.
"We were 2,000 miles away trying to deal with the house and, even with my sisters helping, it was emotional and expensive. Steve stepped into a leadership role to keep us on track and help us make the decisions that needed to be made, but I know we made mistakes. It would have been nice to know about Caring Transitions and to have brought in professionals to help us through that period of our lives," Tamara said.
"Situations like that are just overwhelming. Even if you're physically able to handle the work on your own, it can make a huge difference to bring in someone who can help you take a step back and manage the process," Steve added.
Tamara has had a varied career – from direct care to social services to pet grooming – but she has always been drawn to work that gets her out in the community.
Steve, a U.S. Navy veteran, spent most of his career in the Information Technology industry and found himself ready for a new challenge. He started cataloging not only the things he was good at, but the things that brought him joy and fulfillment.
"Everything on my list of what made me happy was about helping people and making a difference – whether it was changing a tire for someone on the side of the road or helping Tamara and her sisters clear out their parents' house. That's when I realized, whatever we were going to do, I wanted it to make a difference for people," Steve said. "When we found Caring Transitions, we realized it would be a perfect fit for us and for this community. We're looking forward to helping people through what is often one of the most challenging times in their lives."
Caring Transitions is bonded, insured and their W2 employees have been background checked. For additional information, call (919)342-0448, email SAcosta@CaringTransitions.com or TAcosta@CaringTransitions.com, or visit http://www.caringtransitionsofcary.com/
About Caring Transitions
Caring Transitions, founded in 2006, is the first national franchising concept specializing in senior relocation and transition services. With more than 200 locations throughout the United States all owned and operated by Certified Relocation and Transition Specialists, Caring Transitions provides clients with supportive moves, auctions, rightsizing and transitions. This includes expert advice plus a well-executed transition plan beginning with the initial sorting of personal belongings through packing, shipping and selling of items to the final clearing and cleaning of the property. For more information, visit http://www.caringtransitions.com or visit us on Facebook.