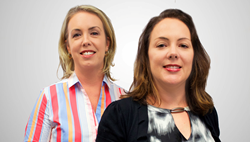 In many cases, people call Caring Transitions at an emotionally and physically overwhelming time. With our full-suite of services and compassionate team, we can reduce that stress and help you ease into the next phase of your life. - Lisa Haskell
GWINNETT, Ga. (PRWEB) June 25, 2018
Sisters Lisa Haskell and Linda Miller are excited to announce that they are bringing a new, full-service relocation and estate clearing service to the Gwinnett area – Caring Transitions of Central Gwinnett.
Caring Transitions' specially-trained team can handle organizing, packing, de-cluttering, moving, resettling, in-person and online estate sales, liquidations, and preparing homes for market. Caring Transitions specializes in managing senior relocations, but the services are also perfect for busy families and individuals in need of assistance. Caring Transitions of Central Gwinnett serves Lawrenceville, Grayson and the surrounding communities.
Haskell spent 23 years working in finance in the manufacturing industry, most recently as a chief financial officer, and she was finding herself increasingly unhappy with working in corporate America. She knew, if she was going to open her own business, it had to be something she could do in a caring, compassionate way that would make a positive impact on her community. When she found Caring Transitions, she realized it would be a perfect fit, not just for her, but also for her sister, Linda Miller. Miller, who has joined Haskell as Caring Transitions of Central Gwinnett's Operations Manager . Miller also owns Flawless Finishes, a specialized interior design business. Miller also has a background in retail management and customer services. Haskell and Miller are both long-time Georgia residents – Haskell lives in Lawrenceville and Miller lives in Grayson.
"In many cases, people call Caring Transitions at an emotionally and physically overwhelming time. With our full-suite of services and compassionate team, we can reduce that stress and help you ease into the next phase of your life," Haskell said. "I think it's also important to remember that, when you get older and you face a necessary relocation, it can feel like you are losing something. We want to meet that stigma head on because we know being in the right living situation can help you live a longer, healthier, happier life, even if it's not at the place you spent the last 50 years. It's all about getting you there in a stress-free way."
Caring Transitions' services are perfect for managing the many aspects of a senior move or for assisting with the process of downsizing to provide a safer living situation as well as for busy families and people clearing out the home of a loved one who has moved into assisted care or has passed. All of Caring Transitions' services are customizable, so clients only pay for the services they need – whether that means managing the entire move and estate-clearing or just getting someone resettled into their new place.
"I always thought the satisfaction I had with Flawless Finishes was because I had the opportunity to share my experience with someone, but when I looked back at my career, I realized the jobs I loved the most are ones where I connected with someone and we've created a space together that they love. That's what I'm looking forward to doing with Caring Transitions. It's not about moving someone from one place to another. It's about helping them see the positive impact of the move, creating a space they'll love and helping them get to that next chapter of their lives in the best way possible," Miller said.
Caring Transitions is bonded, insured and their W2 employees have been background checked. For additional information, call (470)207-1106, email LHaskell@CaringTransitions.com or visit http://www.CaringTransitionsCentralGwinnett.com.
About Caring Transitions
Caring Transitions, founded in 2006, is the first national franchising concept specializing in senior relocation and transition services. With more than 200 locations throughout the United States all owned and operated by Certified Relocation and Transition Specialists, Caring Transitions provides clients with supportive moves, auctions, rightsizing and transitions. This includes expert advice plus a well-executed transition plan beginning with the initial sorting of personal belongings through packing, shipping and selling of items to the final clearing and cleaning of the property. For more information, visit http://www.caringtransitions.com or visit us on Facebook.