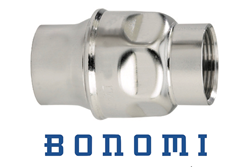 ...dependable, bubble-tight protection against reverse flow.
CHARLOTTE, N.C. (PRWEB) June 27, 2018
Bonomi's new Series S250 in-line check valves feature a cold-formed 316 stainless steel body that gives users the highest Cv at the lowest cost. The metal forming process allows an improved flow profile inside the valve body to minimize head loss. It also eliminates machining for reduced manufacturing cost.
The Series S250 is electron beam welded at the end cap-to-body connection creating a unibody for leak-free service. The low-cracking .50-PSI spring-loaded FKM (Viton®) seat provides high flow capacity, minimal head loss and dependable, bubble-tight protection against reverse flow.
Available in six sizes, FNPT threaded from 1/2" to 2", the new valves are rated to 250 WOG with an operating temperature range of -4˚F to 302˚F.
Bonomi offers one of the largest selections of quality brass and steel in-line check valves, available in a wide range of sizes to meet growing market demand. For more information on new Bonomi S250 Series check valves or other Bonomi products, contact Bonomi North America at (704) 412-9031 or visit http://www.bonominorthamerica.com.
About Bonomi
Bonomi North America has served the U.S. and Canada since 2003 and is part of the Bonomi Group of Brescia, Italy. Bonomi Group brands include Rubinetterie Bresciane Bonomi (RB) brass ball valves and check valves; Valpres carbon and stainless steel ball valves; and Valbia pneumatic and electric industrial actuators. Bonomi North America maintains an extensive distribution network for these products from its headquarters in Charlotte, N.C. and a facility in Oakville, Ontario, Canada.