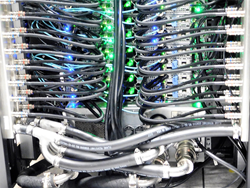 By providing the opportunity to witness liquid cooling in action, Dell EMC allows customers to assess configuration options and performance capabilities before taking the next step to implementation
ROUND ROCK, Texas (PRWEB) June 26, 2018
CoolIT Systems (CoolIT), global leader in energy efficient Direct Liquid Cooling technology, today announced the launch of a liquid cooled HPC system at Dell EMC HPC and AI Innovation Lab in Round Rock, Texas.
The 68-node rack is part of the Zenith Super Computer, a TOP500 system. Zenith is designed to develop innovative HPC products, perform application scalability studies and enable customers to test and simulate their unique HPC workloads on Dell EMC HPC Systems. Working directly with Dell EMC experts, customers can evaluate their HPC requirements and influencing variables, ensuring the final solution configuration is tuned for optimized performance from day one.
The factory-installed and warranty supported PowerEdge C6420 servers work in conjunction with corresponding CoolIT Coolant Distribution Units (CDUs) and Rack Manifold products to deliver a complete data center liquid cooling solution. These Direct Contact Liquid Cooling (DCLC) solutions use warm water to cool the CPUs, eliminating the need for chilled water in most data centers. Dell EMC customers employing liquid cooling will realize competitive benefits by lowering their cooling energy costs by up to 56%, while increasing compute density by approximately 23% and maximizing performance of their servers.
The Dell EMC PowerEdge server portfolio forms a scalable, secure compute platform that is the ideal foundation for HPC, AI, research, cloud, analytics or software-defined data center initiatives. By integrating CoolIT Systems Rack DCLC™ solution, the liquid cooled PowerEdge C6420 enables greater performance, efficiency, density and scalability for its customers' data centers. Providing a readily available liquid cooled server helps Dell EMC's customers reduce integration time and costs, while ensuring compliance with warranty terms.
The Dell EMC HPC and AI Innovation Lab is dedicated to building fully integrated HPC systems, generating best practices for performance optimization, evaluating new technologies and working with customers to come up with the right solutions for their needs.
"By providing the opportunity to witness liquid cooling in action, Dell EMC allows customers to assess configuration options and performance capabilities before taking the next step to implementation," said Patrick McGinn, VP Product Marketing & Business Development at CoolIT Systems. "CoolIT is proud to enable PowerEdge servers with liquid cooling to support higher wattage processors for increased performance, energy efficiency and rack-level density in today's modern data centers."
About CoolIT Systems, Inc.
CoolIT Systems Inc. is the world leader in Direct Contact Liquid Cooling (DCLC) for the Data Center, Server and Desktop markets. As an experienced innovator with 70 patents and more than 2.5 million liquid cooling units deployed, CoolIT brings a wealth of design, engineering, and manufacturing knowledge to the table. CoolIT's Rack DCLC™ platform is a modular, rack-based, advanced cooling solution that allows for dramatic increases in rack densities, component performance, and power efficiencies. The technology can be deployed with any server and in any rack making it a truly flexible solution that allows for an edge in today's highly competitive marketplace.
All logos, trademarks and registered trademarks are the property of their respective owners.
View original press release here.