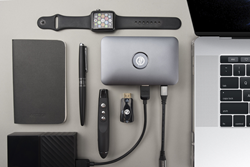 iMate is an all-in-one solution that eliminates the need for a bag full of chargers, adapters, and dongles
HONG KONG (PRWEB) June 26, 2018
Today, Grenoplus launched iMate, a charger, battery backup, and portable docking system in one that charges and syncs up to six Apple devices at a time. It starts at the early bird price of $99 USD on Indiegogo ($199 USD+up retail).
iMate is an all-in-one solution that eliminates the need for a bag full of chargers, adapters, and dongles. It's designed to be ultra-compact, easy to use and portable, and is compatible with all Mac products, including all series of MacBook, MacBook Pro, iPhone, iPad and even the Apple Watch.
Currently, Macbook Pros do not have USB, SD card, and HDMI ports and there are no docking stations available for Mac products.
"We wanted to solve these annoying issues and create a device to that would allow users to quickly charge and sync all Apple devices simultaneously," said Chief Executive Officer HS Chan. "iMate is really a Mac user's best friend. Our docking station is stylish, versatile, and is a much needed tool for thousands of people worldwide."
iMate comes equipped with two USB-C PD fast charge ports, with 10Gb/s of data speed. It has a USB 3.0 with 5Gb data speed, USB 2.0 with 480Mb/s data speed, and SD card port with 104Mb/s data speed. It transfers data to multiple devices quickly and conveniently.
The device also includes HDMI 4K ultra display technology, which means users can connect a MacBook to TV through an HDMI port to view shows and movies in high-quality quality and color.
"iMate is perfect for use at home, at the airport, at the office, or on the go. It's a fantastic travelling companion, tool for work, or a way to enhance personal use of technology" said Chief Technology Officer Stone Cheng. "Best of all, it's easy to use. Just plug in, charge, and relax while the device takes care of all your Apple devices."
iMate is available today on Indiegogo with an estimated delivery date of September 2018. For a full rundown of pledges, visit the Indiegogo page. Media wishing to interview their personnel should contact PR agent, Jackson Wightman at +1 (514) 605-9255.