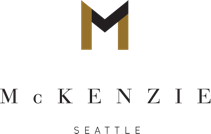 SEATTLE (PRWEB) June 27, 2018
McKenzie, a 40-story luxury apartment tower with 450 homes developed by Clise Properties, is slated to open to new residents in July 2018 at 2202 Eighth Avenue. By design, its elliptical form reflects the surrounding beauty of Seattle's ever-changing light conditions of sky and cloud cover. The tower was designed by leading Seattle architecture and design firm, Graphite Design Group.
"During the design process, we explored many different shapes for the building with one of the goals being to minimize view blockage and maximize access to sunlight for the condominium building across the alley," said Michael Medina, Principal, Graphite Design Group. "In working with Clise Properties we discovered the pure elliptical form achieved not only what we needed for the neighbors, it also provided an opportunity to build a tower with timeless simplicity and understated elegance that needs little else to make it a unique building worthy of the Clise family legacy."
The distinct elliptical design provides expansive 360-degree floor-to-ceiling views of Lake Union, the Olympic and Cascade Mountains and downtown Seattle.
McKenzie's exterior faceted glass panels reflect the surrounding mountains, water, and city in slightly different ways, providing a new perspective on the Seattle-area skyline. A spire element that identifies the building entrance at ground level rises from the sidewalk and culminates above at 450 feet. There, it engages the "crown," a sculpted mechanical screen whose fluted metal panels capture and reflect light, giving emphasis to the form differently over time as the sun moves across the sky towards the horizon.
At ground level, in a nod to Seattle's aeronautical past, a stainless-steel entry canopy sculpted like an airplane wing with a honed trailing edge floats above the lobby entrance. On either side of the lobby entrance, above the adjacent retail space and the Wild Ginger restaurant, are gracefully cantilevered glass canopies whose fanned structural elements extend welcoming arms to pedestrians crossing from the corner at 8th Avenue and Blanchard Street.
McKenzie's luxury appearance is designed to help its residents adapt to urban living and focus on the great on-site amenities as well as the countless opportunities just outside the door in South Lake Union and in downtown Seattle.
McKenzie offers studio, one, two and three-bedroom options, as well as Club Level and Penthouse homes for the ultimate downtown luxury experience. For more information or to schedule a tour, contact McKenzie at (206) 823-2781 or via email at leasing@mckenzieseattle.com.
About McKenzie
McKenzie is the premier luxury apartment residence for individuals looking for downtown Seattle, urban living with prominent amenities. Developed by Clise Properties, the building is located at 2202 Eighth Avenue. McKenzie is a 40-story elliptical tower with 450 impeccably designed apartment homes ranging from studio, one, two and three-bedroom options to Club Level and Penthouse apartments for the ultimate in luxury experiences. McKenzie provides unique services to enhance home-life including a 360-degree wrap-around deck on the 40th floor offering panoramic views, work spaces and a private dining room; a 39th floor fitness center; a yoga room with on-demand Wellbeats fitness technology; private spa with an 8-person spa tub steam room and sauna; 24/7 concierge services and a 40th floor pet spa and grooming space with adjacent outdoor area. Apartment homes also offer natural gas fireplaces, high-end appliances and California Closets. For more information about McKenzie visit http://www.mckenzieseattle.com or join the conversation online on Facebook and Instagram.
Media Contacts:
Aaron Blank & Chris Guizlo, The Fearey Group for McKenzie
(206) 343-1543, Clise@feareygroup.com