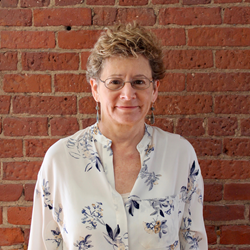 BOSTON (PRWEB) June 26, 2018
BlueConic, the world's leading customer data platform (CDP), today announced Diane Gordon joined the team as senior vice president of customer success. Gordon will own customer operations for BlueConic's hundreds of customers.
In this role, Gordon partners with customers throughout their ever-evolving experience with BlueConic. She leads a team that ensures customers maximize the value of their CDP investment with a best-in-class experience over the long term. The customer success organization provides customers with the support and guidance they need in order to unify their customer data and then activate it to drive positive business outcomes.
"We are honored that Diane is on board at BlueConic," says Bart Heilbron, CEO of BlueConic. "She is a committed champion of the customer, and an experienced partner who will help our customers achieve optimal results from their CDP deployments."
Gordon's career includes executive roles in customer care, operations, marketing, product development, product management and corporate development. Most recently, as the Chief Customer Officer of Brainshark, Gordon led all post-sale customer activities, from implementation through expansion and advancement. She held senior, customer-facing positions at Bullhorn and Endeca Technologies (acquired by Oracle). Gordon is a thought leader, speaker, and author in customer care and success. She is a member of the Athena Alliance, an organization that advocates for women in the Boardroom.
"I have a lot of affinity with BlueConic's customers as we are all committed to providing the best possible experiences for our customers. We all want to create experiences that are helpful and fruitful and that inspire customer loyalty," notes Gordon. "BlueConic's CDP is accessible and easy-to-use, and my team works hard to ensure that from implementation to optimization, our customers are enjoying the best possible experience and reaping maximum reward from their partnership with us."
More information about how companies can get started on a unified, actionable customer view is here.
About BlueConic
BlueConic, the world's leading customer data platform (CDP), liberates marketers' first-party data from all the disparate systems in which it currently exists, and makes it available wherever and whenever it is required by the marketer. More than 200 consumer and B2B brands, including Hearst Newspapers, Moen, T-Mobile, ING, America's Test Kitchen, and American Kennel Club, leverage BlueConic to automate their first-party data collection across sources, unify it into robust, person-level profiles, and activate it in BlueConic or external marketing platforms to improve customer-centric engagement. Founded in 2010, the company is headquartered in Boston, with offices in Europe. Follow us on Twitter @BlueConic and "Like" us on Facebook.