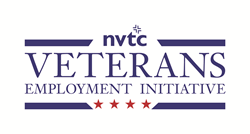 HERNDON, Va. (PRWEB) June 27, 2018
The Northern Virginia Technology Council (NVTC) is proud to celebrate the fifth anniversary of the NVTC Veterans Employment Initiative (VEI) and its efforts to connect Veterans and military spouses to employment opportunities and provide training and resources to NVTC member companies around Veteran and military spouse recruiting, hiring, training and retention.
The VEI is driven by the Greater Washington business and technology community, in conjunction with the region's academic institutions and policymakers. Since the VEI launched in 2013:

Over 12,000 Veterans have been hired by Virginia Values Veterans-certified (V3) NVTC member companies
Over 250 NVTC member companies have participated in the VEI
85 NVTC member companies have become V3-certified
Over 2,000 volunteer hours in support of the VEI were given by NVTC members in 2017
"We're thrilled by the tangible impact the VEI has made over the last five years. The 12,000 Veterans hired by NVTC member companies is a true reflection our members' strong dedication to Veterans. We're proud to support the highly-skilled Veteran and military spouse community and partner with so many passionate Veteran service organizations and companies," stated VEI Executive Director Steve Jordon.
The VEI online community and career site, USTechVets.org, hosted by career industry leader Monster.com and Military.com, in partnership with the Consumer Technology Association, provides tools designed to assist Veteran and military spouse transition into the civilian workforce. There are currently over one million Veteran resumes accessible by NVTC and CTA member recruiters on U.S. Tech Vets. Veterans can use the military skills translator to match their service related experience to civilian skill sets, access a searchable database of jobs at NVTC and CTA member companies, and tap into educational resources to help them connect to a private sector career. Over 650 NVTC corporate recruiters currently use the career site and more than 17,500 job opportunities are posted on the site.
In addition to the U.S. Tech Vets online community, the VEI hosts regular hiring events, partnering with the Virginia Department of Veterans Services and the Virginia Chamber of Commerce, to match companies with job-seeking transitioning service members, Veterans, military spouses and members of the National Guard and Reserve. The VEI also runs the VETWORKING program to facilitate development of professional skills to help Veterans and military spouses build a professional network and empower them through the support of fellow job seekers or newly-employed colleagues.
"The demand for talent is reaching a critical mass, not only in Greater Washington, but across the country. Turning to Veterans and military spouses and their unique technical skill sets and leadership makes good business sense. We look forward to the continued growth of the VEI in the coming years," said NVTC President and CEO Bobbie Kilberg.
The VEI is funded by the NVTC Foundation, a 501(c)(3) tax-exempt nonprofit. Lead corporate donors include CACI International Inc., Consumer Technology Association, ICF International, IntelliDyne, LLC, Micron Technology Inc., Monster and Military.com, Northrop Grumman Corporation and PenFed Credit Union.
For more information about the VEI, visit http://www.NVTCVeterans.org and view the VEI's 5th anniversary infographic.
The Northern Virginia Technology Council (NVTC) is the membership and trade association for the technology community in Northern Virginia. As the largest technology council in the nation, NVTC serves about 1,000 companies from all sectors of the technology industry, as well as service providers, universities, foreign embassies, nonprofit organizations and governmental agencies. Through its member companies, NVTC represents about 300,000 employees in the region. NVTC is recognized as the nation's leader in providing its technology community with networking and educational events; specialized services and benefits; public policy advocacy; branding of its region as a major global technology center; initiatives in targeted business sectors and in the international, entrepreneurship, workforce and education arenas; the NVTC Foundation, a 501(c)(3) nonprofit charity that supports the NVTC Veterans Employment Initiative and other priorities within Virginia's technology community. Visit NVTC at http://www.nvtc.org.