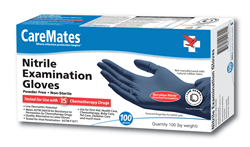 "Our reformulated CareMates Nitrile Medical Examination Glove is now the safest Nitrile glove available in the retail pharmacy marketplace.
ROSELLE, Ill. (PRWEB) June 27, 2018
Shepard Medical Products announced today their upgraded CareMates Nitrile Medical Examination Gloves that protect cancer patient caregivers and family members from exposure to poisonous chemotherapy drugs at home and in healthcare settings. CareMates Nitrile Gloves meet ASTM Standard D6978 for Resistance to Permeation by Hazardous Drugs for 15 cytotoxic (chemotherapy and home infusion) drugs and for Fentanyl. Available through independent retail pharmacies and medical distributors, CareMates Nitrile Gloves are formulated to protect family members, medical staff, housekeeping, and anyone who comes in contact with chemotherapy patients. The toxic chemicals excreted from the patient's body contaminate toilets, linens, clothing, and any exposed surfaces, posing danger to anyone who comes in contact. http://www.care-mates.com/nitrile
CareMates Nitrile Examination Gloves feature a patented low-dermatitis formulation, have 0% viral penetration, 0% alcohol permeation, and meet the ASTM Standard for Infection Control. In addition to protection from chemotherapy and Fentanyl drugs, the affordable CareMates Nitrile gloves are also recommended for a variety of everyday infection protection needs like general health care, first aid, baby care, diabetes care, and more. CareMates Nitrile gloves are available in 100, 50, and 10-count packages, in a four sizes.
"Our reformulated CareMates Nitrile Medical Examination Glove is now the safest Nitrile glove available in the retail pharmacy marketplace. We are committed to creating affordable, high quality products that keep professionals, consumers and their families safe," said Chris Humbert, President of Shepard Medical Products.
Protection from exposure to poisonous drugs is necessary for anyone who comes in contact with cancer patients receiving chemotherapy. The danger of exposure to dangerous chemotherapy drugs includes cross-contamination from the patient through transfer of body fluids, touching patient's skin, handling clothes, bed linens or towels, among others. According to Onco-Link, "Acute exposure to body fluids or the chemotherapy drug itself can cause rash, nausea and vomiting, dizziness, abdominal pain, headache, nasal sores and allergic reactions. Exposure over a longer period of time is thought to be associated with birth defects, reproductive losses and cancer later in life."
About Shepard Medical Products and CareMates
Shepard Medical Products is the industry leader in the field of Infection Protection for healthcare, home and workplace. Since 1986, Shepard has been committed to providing customers with the highest quality, affordable examination gloves, protective masks, and related infection protection products. Shepard Medical Products' commitment to finding solutions to customer needs has led to products that exceed regulatory standards, as well as the development and introduction of proprietary products, like the CareMates Infection Protection Line.