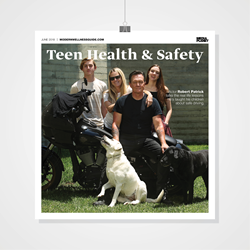 As a father of two teenagers he leads by example and expects them do the same.
NEW YORK (PRWEB) June 26, 2018
The print component of this campaign is distributed within USA Today that is going out in the Los Angeles, New York, South Florida, Denver, San Francisco, Chicago, Dallas, Washington D.C, and Baltimore circulation of approximately 250,000 copies and an estimated readership of 750,000. The digital component is distributed nationally, through a vast social media strategy and across a network of top news sites and partner outlets. To explore the digital version of the campaign, click here.
Robert Patrick, famous motorcyclist and actor featured in Terminator 2: Judgment Day, X-files, Sons of Anarchy and more, graces the cover of this cross-platform campaign speaking towards parents through personal experience on how to teach growing teenagers the best driving practices. Through a series of exclusive interviews in the interior, Patrick opens up to parents and teens on the importance of honest communication and how that can lead to a long-term series of informed decisions. As a father of two teenagers he leads by example and expects them do the same.
Teen NASCAR drivers Aurora Straus and Natalie Decker are speaking out against distracted driving and their personal experiences on the track. Both have encountered countless reckless behavior on the road traveling from race to race witnessing the growing issue of driver safety in our generation. Other partners such as the National Safety Council and Mothers Against Drunk Driving (MADD) explain current driving technology and safety tips for teens during the "100 deadliest days of summer." Additionally, Meg Donnelly, actress from the hit series Housewife opens up about her battle against anxiety and how she is starting to share her personal story as a mental health activist. Donnelly offers advice to parents and teens on spotting the signs of anxiety and addressing the issues proactively. She also touches on how being a millennial she has first-hand experience with the impact that social media has on ones school performance, social interaction, interpersonal communication, self-esteem and many other facets of everyday life.
"Teen Health & Safety" was made possible with the support of Robert Patrick, The National Safety Council, Insurance Institute for Highway Safety, Discount Tire, Allstate Roadside Services, Aurora Straus, Natalie Decker, The Salcido Family, MADD, Cedar Electronics, Oral Health America, Dentsply Sirona, and many more!
About Mediaplanet
Mediaplanet is the leading independent publisher of content-marketing campaigns covering a variety of topics and industries. We turn consumer interest into action by providing readers with motivational editorial, pairing it with relevant advertisers and distributing it within top newspapers and online platforms around the world.
Press Contact:
Virginia Nielsen
Virginia.nielsen@mediaplanet.com
(646)-518-5424