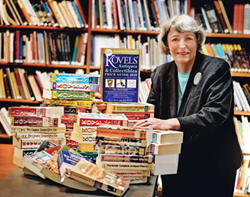 CLEVELAND, Ohio (PRWEB) June 28, 2018
Antiques and collectibles expert Terry Kovel is the subject of an award-winning video, "A Peek Inside the Collectibles Empire of Terry Kovel," produced for WVIZ/Ideastream®, Cleveland's public television station. The Radio Television Digital News Association (RTDNA) has just awarded David C. Barnett and Mary Fecteau of Ideastream with a National Edward R. Murrow Award for Excellence in Video, Large Market Radio, after winning a Regional Edward R. Murrow award this past spring.
For more than 50 years, collectors across the country have turned to Terry Kovel for information on the identification, history and value of family treasures and antiques show and flea market finds. She is the well-known syndicated columnist, author of more than 100 books, and was featured on three TV series, all about antiques and collecting. The video was inspired by the publication of the 50th Anniversary Edition of "Kovels' Antiques & Collectibles Price Guide," Kovel's best-selling annual book that reports on the antiques market.
The Cleveland, Ohio, resident welcomed David Barnett into the office she and her late husband, Ralph, added onto their 1950's house. Barnett and Terry take viewers on a tour, perusing the scores of antique toys, outdated kitchen gadgets, advertising items and various kinds of pottery that fill her shelves, while chatting about her 50-plus years of collecting and writing about collectibles.
The RTDNA has been honoring outstanding achievements in electronic journalism with the Edward R. Murrow Awards since 1971. Edward R. Murrow's pursuit of excellence in journalism embodies the spirit of the awards that carry his name. To see David Barnett and Mary Fecteau's award-winning video, and Terry Kovel, it can be viewed here: http://www.ideastream.org/news/a-peek-inside-the-collectibles-empire-of-terry-kovel. For more and a transcript of the video, go to Kovels.com.
About Kovels.com
Kovels.com, created by Terry Kovel and her daughter, Kim Kovel, provides collectors and researchers with up-to-date and accurate information on antiques and collectibles. The company was founded in 1953 by Terry Kovel and her late husband, Ralph. Since then, the Kovels have written some of America's most popular books and articles about antiques, including the best-selling annual Kovels' Antiques & Collectibles Price Guide. The website, Kovels.com, online since 1998, offers more than a million free prices, and includes a free weekly email, "Kovels Komments." It gives readers a bird's-eye view of the market through the latest news, auction reports, a Marks Dictionary, readers' questions and answers and much more.
Contact Information:
Liz Lillis
216.752.2252
Pr(at)kovels(dot)com