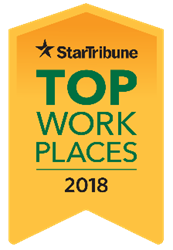 WHITE BEAR LAKE, Minn. (PRWEB) June 27, 2018
TitleSmart, Inc., a leading Twin Cities title insurance company, today announced that it has been named a 2018 Top Workplace by the Star Tribune. Voted on by their employees, the winners were chosen based on the employee engagement surveys. TitleSmart ranked 54 out of 150 companies. Being named a Top Workplace means that TitleSmart's employees believe in the company's values, mission and culture. A complete list of those selected is available on the Star Tribune Website and will also be published in the Star Tribune Top Workplaces special section.
Produced by the same team that compiles the 27-year-old Star Tribune 100 report of the best-performing public companies in Minnesota, Top Workplaces recognizes the most progressive companies in Minnesota based on employee opinions measuring engagement, organizational health and satisfaction. The analysis included responses from over 71,000 employees at Minnesota public, private and nonprofit organizations.
The results of the Star Tribune Top Workplaces are based on survey information collected by Energage, formerly WorkplaceDynamics, an independent company specializing in employee engagement and retention.
"We are so humbled to be named a Top Workplace," said Cindy Koebele, President of TitleSmart, Inc. "What makes it even more special is that it was voted for by our staff which means that our staff truly believe in the core values of our organization."
Star Tribune Publisher Michael J. Klingensmith said, "The companies in the Star Tribune Top Workplaces deserve high praise for creating the very best work environments in the state of Minnesota. My congratulations to each of these exceptional companies."
About TitleSmart, Inc.
TitleSmart, Inc. is a full-service title insurance company dedicated to providing clients with exceptional title, escrow, and real estate closing solutions. From investing in the best systems to adding extra touches like warm cookies, gourmet coffee and branded trinkets to each closing, TitleSmart embraces the mentality that closing on your house should be a positive, fun and upbeat experience. A certified Women's Business Enterprise, TitleSmart was named one of the Inc. 5000 Fastest Growing Private Companies in America in 2014, 2015, 2016, and 2017 and one of the Minneapolis/St. Paul Business Journal's Best Places to Work in 2015. Cindy Koebele, President of TitleSmart, was also named the 2015 EY Entrepreneur of the Year® for the Upper Midwest region. For more information visit http://title-smart.com.